PDA Mental Health Peer Support SCQF level 7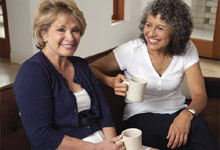 The Professional Development Award (PDA) in Mental Health Peer Support is designed to facilitate candidates in the role of peer support worker. The PDA equips candidates with the knowledge, skills and values which are necessary to carry out this role.
This qualification is available through colleges and training providers.
Use the tabs below to open each section individually. Alternatively you can show allhide all the sections.
Why deliver this qualification
The PDA in Mental Health Peer Support is a new qualification which is aimed at developing the skills and knowledge required for those involved in supporting people recovering from mental health illnesses.
Who does this qualification suit
The PDA in Mental Health Peer Support is aimed primarily at candidates who wish to develop their skills in mental health peer support. The primary target group consists of individuals who have personal experience of mental health problems and who wish to take on the role of peer support workers.
Access
Entry to this qualification will be at the discretion of the centre. However, candidates wishing to take this PDA should be able to demonstrate awareness of, and active involvement in, mental health support either in the capacity of paid employment or as a volunteer.
Progression
Successful completion of this PDA may lead to opportunities for employment as a peer support worker. It may also lead to the candidate being able to gain access to a range of other related mental health and social services qualifications.
Approval
Centres interested in offering this qualification should come forward for approval and contact SQA's Business Development Team for guidance.
Assessors and verifiers must be able to meet SQA's general requirements for technical/occupational competence as outlined in the Systems and Qualification Approval Guide (510 KB). The specific delivery requirements are set out in the Group Award Specification (Arrangements Document).
How to assess
Assessment will consist of a combination of assignments and a portfolio of evidence, both of which will be based on practical real life experiences. Word counts will apply to both instruments of assessment.
Where can you take this course?
Group Award Specifications
Unit(s) and delivery tools
Group Award code: G9WA 47
SCQF level: 7
The PDA is achieved on the successful attainment of two mandatory Units.
F9DW 34 - Mental Health Peer Support: Recovery Context
F9DV 34 - Mental Health Peer Support: Developing Practice
Find the unit specifications in unit search.
Arrangements
Any other information
The qualification has been developed as a result of collaboration between SQA and the Scottish Recovery Network (SRN). The aims of the SRN are to:
Raise awareness of recovery from mental health problems.
To learn more about the factors which help and hinder recovery
To build capacity for recovery by supporting and encouraging national and local action