PDA Childhood Practice SCQF level 9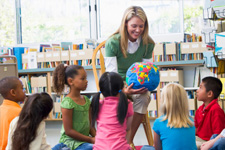 The level 9 PDA develops the skills and knowledge required to manage services for children and young people. It is aimed at those who wish to progress into management within the Childcare and Playwork sectors without having to complete a full-time university programme.
These PDAs can be delivered by colleges, training providers and employer-approved centres.
Use the tabs below to open each section individually. Alternatively you can show allhide all the sections.
Why deliver this qualification
The PDAs in Childhood Practice at SCQF level 9 has a wide range of options to suit candidate and employer needs.
The qualifications can be delivered on full-time, part-time and distance learning basis. Combined modes of delivery can be offered so students in employment can maintain and develop their practice whilst undertaking these awards.
Who does this qualification suit
Candidates wishing to undertake the level 9 PDA may already be in post as leaders/managers without a qualification at SCQF level 9. However, previous SCQF level 7 and 8 qualifications are an entry requirement.
Access
Entry to the level 9 PDA is through recognition of prior learning. Candidates should already have qualifications in the sector that allow registration by the SSSC as a Practitioner at SCQF level 7 and have relevant qualifications at SCQF level 8. To undertake this PDA the candidate must meet the entry requirements of 240 credit points at SCQF levels 7 and 8.
Progression
The PDA at level 9 is an award for those seeking to develop their professional knowledge and skills, and ultimately increase their future career prospects. The award will advance their practice and enhance their personal and professional values and commitment.
Approval
Centres are now being invited to come forward for approval to deliver the new level 9 award. SQA will work with the SSSC to support this process. This award is non-devolvable and not auto-approved to centres.
Centres should contact the Business Development Team for guidance in completing the combined CA1/SA1 form.
Assessors and verifiers must be able to meet SQA's general requirements as outlined in the guide to approval.
Where can you take this course?
Group Award Specification
Arrangements Documents
Qualification Verification Summary Reports
Qualification Verification Summary Reports were formerly known as Internal Assessment Reports.
Unit(s) and delivery tools
Group Award codes: GA36 49 (120 SCQF credit points at SCQF level 9)
Structure - Level 9
The PDA Childhood Practice at SCQF level 9 consists of five mandatory Units (96 SCQF credit points) and three optional Units (24 SCQF credit points).
Mandatory Units
| Unit Title | Unit Code | SCQF Credit Points |
| --- | --- | --- |
| Childhood Practice: Leadership and Management | FD6X36 | 16 |
| Developing Services for Children and Young People | FD6Y36 | 16 |
| Children's Rights: Equality, Diversity and Inclusion | FD7036 | 16 |
| Participatory Partnerships: Working with Families | FD7136 | 16 |
| Childhood Practice: Leadership and Management (Workplace Practice) | FD7236 | 32 |
Information sheet(s)