NPA Contemporary Gaelic Songwriting and Production SCQF level 5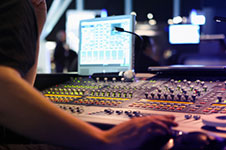 National Progression Awards (NPAs) assess a defined set of skills and knowledge in specialist vocational areas, linked to National Occupational Standards. The NPA in Contemporary Gaelic Songwriting at SCQF level 5 introduces learners to techniques that are important in the creative industries sector.
This NPA develops knowledge and understanding of music, songwriting, performance and presentation. It also develops knowledge of contemporary Gaelic culture and sound technology, together with practical, technical and transferable skills — such problem solving and planning, reviewing and evaluating, and working with others.
This award will give learners an understanding of the issues which have shaped modern Gaelic society, both culturally and linguistically. While learners will be introduced to the roots of Gaelic music making, the focus will be on the transition to contemporary Gaelic music and the application of Gaelic to contemporary genres.
The qualification is available through schools, colleges and training providers.
Alternative assessment guidance
This subject will not have alternative assessment guidance for session 2023-24. You should refer to the Group Award/Unit specifications for detailed delivery and assessment information. For general support on delivery and assessment see the HNVQ assessment guidance 2023-24.
Qualification structure
How to assess
Assessment of this award will be a combination of practical and knowledge assessments under closed and open-book assessment conditions. It is recommended that centres refer to the assessment and Evidence Requirements for each Unit.
A variety of assessment techniques will be required, including compilation of folios of evidence, written or oral tests.
The delivery of the award is at the individual centre's discretion.
Deliver this qualification
Thinking of working with us?
Existing customer?
Where can you take this course?
Why study this qualification
The NPA is suitable for any candidate who is at the start of a Gaelic learning journey. It is suitable for a range of possible candidates, from those of school age who are looking to progress to a career in arts or media sectors, to adults who wish to enhance their Gaelic language skills through the creativity of music and song. These may include:
learners who are at school or who may have just left school
mature candidates who may have been out of education for a long period of time
individuals who are currently in employment and wish to obtain a formal qualification
those who are looking to access HN programmes
employees who want to develop their careers
individuals who are seeking national recognition of their achievements
employers who wish their employees to take part in short continuing professional development courses
Access
While entry is at the discretion of the centre, an interest in and a basic knowledge of Gaelic would be useful and this may be evidenced by attainment in Gaelic in SCQF level 4 or equivalent skills. It would also be helpful if candidates had obtained a Music qualification at SCQF level 4 or had an equivalent skill level.
Employment and progression
The level 5 award could provide progression to:
SCQF levels 6 to 9
FE Traditional Music in Gaelic
an HNC/HND in Music
BA in Gaelic and Traditional Music, BA Gaelic Language and Culture
employment in the creative industries sector
Qualification structure
Where can you take this course?