Events Co-ordination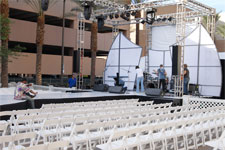 National Certificates (NCs) are practical qualifications designed to equip learners with the knowledge and skills (including Core Skills) required for further study or to gain employment.
The NC in Events Co-ordination at SCQF level 5 develops knowledge and understanding of the events industry together with practical, technical and transferable skills. This qualification covers areas such as events costing, administration and IT as well as customer care and working safely.
National Certificates (NCs) are designed for full-time delivery over one year (or part-time over two years) and are available through schools, colleges and training providers.
Use the tabs below to open each section individually. Alternatively you can show allhide all the sections.
Why deliver this qualification
NCs bridge the progression gap from school attainment to HN and other study. They are suitable for school leavers and those seeking a route back into study at non-advanced level. They are trusted qualifications having been developed by practitioners with the support of the sector skills councils.
The NC in Events Co-ordination is straightforward to deliver and slots readily into college timetables.
It can be offered in any of the following modes:
full-time
part-time (eg day-release)
infill into existing classes
January start, 'Access to HN Course'
Successful completion of this NC would enable a candidate to progress to an HNC Events, HND Events Management, Tourism or Hospitality course or to employment.  Once in employment, many continue to study either a HNC/HND/PDA qualification in Events or a related area.
National Certificates include opportunities for learners to develop Core Skills.
Who does this qualification suit
This NC is suitable for a wide range of candidates including:
School leavers
Adult returners to education
Learners looking to progress to an HNC/HND
Candidates whose first language is not English
Candidates in employment who wish to enhance their career prospects
Employers who wish their employees to take part in continuing professional development courses
Candidates who are seeking national recognition of their achievements
Access
Entry is at the discretion of the centre.
No prior qualifications are required to undertake this qualification, although experience in events or knowledge of hospitality would be an advantage.
Examples of formal entry qualifications include:
National Courses including National 4 English and Mathematics/Numeracy
Other equivalent qualifications and/or experience for example Skills for Work courses
relevant work experience
Progression
The NC in Events Co-ordination may provide progression opportunities to:
SCQF level 6/7
an HNC/HND in Events/Events Management or related area
a PDA in Events/Events Operations or related area
an SVQ in the Hospitality sector
employment in the events sector, perhaps as an events co-ordinator, events administrator, events marketing assistant, or temporary structure crew member
Approval
Centres with devolved authority for approval should use their own internal approval process.
Centres without devolved authority will have to come forward for approval and should contact SQA's Business Development Team for guidance.
Assessors and verifiers must be able to meet SQA's general requirements for technical/occupational competence as outlined in the Guide to Approval.
How to assess
Each Unit specification gives detailed information on the Evidence Requirements and approaches to assessment for the Unit.
Assessment of this NC is through a series of practical assessments or tasks. Some assessments will be carried out under supervised open-book conditions, others under supervised closed-book conditions.
Assessment Support Packs (ASPs) are available for selected Units and can be found on SQA's secure website.
There are opportunities to combine the delivery and assessment of various Units. For example, Contribute to an Event, Handling Business Documents and Customer Care for the Hospitality and Tourism Industry work well together.
Where can you take this course?
Qualification content and delivery tools
Qualifications structure
Group Award code: GD0M 45 (72 SCQF credit points)
SCQF level: 5
National Certificate in Events Co-ordination at SCQF level 5 (487 KB)
The National Certificate in Events Co-ordination at SCQF level 5 consists of eight mandatory Unit(s) (48 SCQF credit points) and four optional Units (24 SCQF credit points).
Qualification Verification Summary Reports
Qualification Verification Summary Reports were formerly known as Internal Assessment Reports.
Offer this qualification