NC Celtic Studies at SCQF Level 6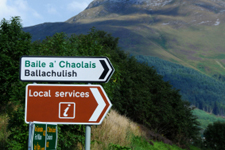 National Certificates (NCs) are designed for full-time delivery over one year (or part-time over two years) and are available through schools, colleges and training providers.
Use the tabs below to open each section individually. Alternatively you can show allhide all the sections.
Why deliver this qualification
The NC meets the needs of candidates who wish to develop a foundation of knowledge and skills in Celtic culture, Celtic history and heritage, Gaelic language, the politics of the Celtic nations and traditional music and dance, required for progression to more advanced study in these areas.
More advanced study could include Higher National programmes in Further Education e.g. Social Science, Events Management, and degree courses such as Scottish Studies and Celtic Studies in Higher Education.
The NC provides candidates with opportunities to develop heritage skills, research and investigative skills, a range of creative skills and other specialist skills useful for working in the creative and heritage sector. It allows candidates to develop their potential using a wide range of learning techniques which include portfolio development, practical projects, work experience and research skills.
Provide a structured route into HNC /D
Flexible delivery
Funded by Scottish Funding Council
Provide skills to go on to further study or entry level employment
Relevant to the vocational area they are interested in ( based on National Occupational Standards)
Credit can be built up over a period of time and if the candidate leaves without completing the course they will be credited for their learning to date.
Who does this qualification suit
The National Certificate in Celtic Studies at SCQF level 6 is open to everyone but is particularly aimed at attracting young people, who may be recent school leavers, and mature adults returning to education.
Access
While access is at the discretion of delivering centres, it would be beneficial if candidates possessed one of the following:
3 Standard Grades at band 3 (general) or above, one of which should be English
3 Intermediate 2 National Courses, one of which should be English
work experience or volunteering in the creative and cultural industries
equivalent qualifications from other countries, providing the competencies can be identified and are appropriate. Where English is not the first language of candidates, it is recommended that they possess English for Speakers of other Languages qualifications, or equivalent.
If candidates do not meet any of the given qualification criteria for entry but can show their aptitude and interest, they should still have an opportunity to access the award at the discretion of the centre.
Progression
The NC caters for those who wish to prepare themselves for entry to employment within the creative and cultural industries seeking to enhance not just vocational skills, but also general employability skills. Potential career opportunities include posts such as trainee venue assistant, front of house, tour guide, and museum guide.
Approval
Approval is devolvable for colleges with devolved authority for approval only. All other centres need to apply for approval. Charges for this are based on the number of verification groups in the NC and should be checked with QAV.
Assessors should be qualified to the same level or above in this subject area to deliver these qualifications as per SQA guidance.
If an NC or NPA contains an externally assessed component of a National Course then teaching staff must be suitably qualified to deliver this.
If an NC or NPA contains SVQ units then assessors must have or be working towards the L&D91 unit or equivalent.
How to assess
Knowledge and skills development is achieved through practical project work, lectures, tutorials, practical work, workshops and allowing candidates self-directed study to carry out research and practical activities.
Teaching and learning should be as practical as possible using project work and visits to heritage sites and cultural venues wherever possible. Candidates should experience a variety of learning and resource materials and assessment techniques, including compilation of portfolios of evidence, written and oral assessments, observation checklists and assessor feedback.
Candidates should be expected to submit work to meet specific deadlines. Deadlines should be an essential element of the delivery to reflect the importance placed in the cultural and creative industries.
Work experience is an integral aspect of this NC
Where can you take this course?
Qualification content and delivery tools
Qualification structure
Group Award Code: GF89 46
NC Celtic Studies at SCQF level 6 (328 KB)
Unit title
Code
SQA credit value
SCQF level
SCQF credit points

Mandatory section: 8 credits required

Celtic Studies

H29A 12

2

6

12

History of the Celts in Scotland

H299 12

1

6

6

Storytelling in the Celtic Tradition

H1SA 12

1

6

6

Politics in the Celtic Nations

H298 12

1

6

6

Heritage Industry in Scotland

H1SC 12

1

6

6

Literature 1

FA58 12

1

6

6

Contemporary Gaelic Language and Culture: An Introduction

FN44 11

1

5

6

Option Group 1: 1 credit required

Gaelic: Speaking

FG5D 09

1

3

6

Gaelic: Speaking

FG5D 10

1

4

6

Gaelic: Speaking

FG5D 11

1

5

6

Gàidhlig: Speaking and Writing Skills

DV48 09

1

3

6

Gàidhlig: Speaking and Writing Skills

DV48 10

1

4

6

Gàidhlig: Speaking and Writing Skills

DV48 11

1

5

6

Option Group 2: 3 credits required

Research Skills

D669 12

1

6

6

Local Investigations

D36J 12

1

6

6

Investigating Archaeology

H29B 12

1

6

6

Family History and Genealogy

H1SB 12

1

6

6

Contemporary Gaelic Music and Song

FN42 11

1

5

6

Music: Performing with Technology

DV4F 11

1

5

6

Music: Songwriting

F5EB 12

1

5

6

Music: Performing

DV46 12

1

6

6

Dance: Ethnic

D72S 11

0.5

5

3

Dance: Scottish

D72V 12

0.5

6

3

Personal Development: Self in Society

F37W 12

1

6

6

Personal Development: Practical Abilities

F37Y 12

1

6

6

Communication (NC)

FA1W 12

2

6

6

Creative Writing 2

D0YF 12

1

6

6

Preparing To Volunteer

FR26 11

1

5

6

Volunteering  Experience

FR27 11

1

5

6

Volunteering Investigative Project

FR28 11

1

5

6

Work Experience

D36H 12

1

6

6

Creative Industries: An Introduction 

FH60 11

1

5

6

Creative Industries: Skills Development

FH61 11

1

5

6

Creative Industries: The Creative Process

FH62 11

1

5

6

Creative Industries: Creative Project

FH63 11

1

5

6

Creative Project

F58F 12

1

6

6

Tour Guiding: An Introduction

F3PK 11

1

5

6
Candidates successfully completing 12 National Unit credits (72 SCQF credit points) will gain the Group Award.
This includes all 8 mandatory SQA credits (48 SCQF credit points), one Gaelic or Gàidhlig' language SQA credit and a further 3 SQA credits (18 SCQF credit points) from the options, at any level.
Awards nested within the NC Celtic Studies Framework
Additional Group Awards are nested within the NC Celtic Studies Framework, which candidates can achieve concurrently with the NC. Where centres choose the relevant Units as options, candidates will achieve the required credits to gain a Skills for Work, an Award, or a National Progression Award, as noted below.
Skills for Work in Creative Industries (C276 11). Relevant Units: FH60 11, FH61 11, FH62 11 and FH63 11
Award in Volunteering Skills (GD1R 45). Relevant Units: FR26 11, FR27 11 and FR28 11
National Progression Award in Contemporary Gaelic Songwriting & Production (GC7Y 45). Relevant Units: FN44 11, FN42 11, F5EB12 and DV4F11.
NB: centres must also enter the candidate for the relevant Group Award code (there is no additional charge for this entry).
Offer this qualification