Customer Service: Principles and Practices Award SCQF level 5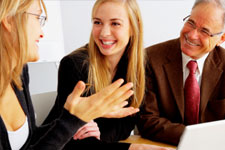 Group Award Code: GG2A 45
The Award in Customer Service: Principles and Practices at SCQF level 5 develops the knowledge and skills that are essential for professional customer service. Learners can specialise in a range of sectors including hospitality, travel, tourism, retail, health and beauty, sports, and events.
This is a short, 'sharp' Award and focuses on: effective communication and listening skills; creating a good impression with customers; dealing with customers' needs effectively, including customer dissatisfaction; and understanding why customer service is important to an organisation/business.
This qualification is available through schools, colleges, community organisations and volunteer-involving organisations (VIOs). It can also be delivered in the workplace or in simulated work situations.
Use the tabs below to open each section individually. Alternatively you can show allhide all the sections.
Why deliver this qualification
Given the importance of professional customer service to all organisations, this Award has a wide potential market. It is suitable for private, public and voluntary organisations and is open to all learners, regardless of age, academic experience or ability.
Achievement of this Award is nationally recognised.
Centres have the flexibility to choose the delivery method which best suits their circumstances and their learners. In addition, centres already approved to deliver the World Host Principles of Customer Service programme are well suited to deliver this award.
The Award can be used to offer a progression pathway to other customer service and customer care qualifications (see Progression).
Who does this qualification suit
The Award in Customer Service: Principles and Practices at SCQF level 5 is suitable for:
S3-S6 pupils
school leavers
college students
adult returners to education
anyone in a volunteering role
trainees preparing for employment
employees studying as part of a continuing professional development programme
individuals involved in voluntary activities
people in employment who wish to enhance their career prospects
those who wish to start their own business
those who have undertaken the World Host Principles of Customer Service training programme
Access
Whilst access to this Unit is at the discretion of the centre, it would be helpful if learners have communication skills at SCQF level 4 or equivalent.
Completion of the World Host Principles of Customer Service training programme can contribute towards this Award.
Progression
Learners who achieve this Award may progress to higher level customer service and customer care Units, qualifications and awards, such as SVQs in Customer Service.
Approval
Centres with devolved authority for approval should use their own internal approval process.
Centres without devolved authority will have to come forward for approval and should contact SQA's Business Development Team for guidance.
Assessors and verifiers must be able to meet SQA's general requirements for technical/occupational competence as outlined in the Guide to Approval.
How to assess
This Award consists of one Unit. The Unit specification gives detailed information on Evidence Requirements and approaches to assessment.
This is a very practical Unit and can be assessed in a variety of ways (eg in the workplace; practical exercises such as role-plays; as part of a training programme) and can be based on either case studies or real work experience. Learners may also have to provide additional evidence, such as responding to questions or developing a portfolio to ensure that all requirements of the Unit are covered.
Awards are not graded.
Support materials, in the form of a candidate workbook and Assessment Support Packs (ASPs) for the Unit will be available to download from SQA's secure site.
Where can you take this course?
Qualification content and delivery tools
Information about the qualification(s)
Overview
Group Award code: GG2A 45( 3 SCQF credit points)
The Award in Customer Service: Principles and Practices at SCQF level 5 consists of one mandatory Unit (3 SCQF credit points).
Information about delivery, assessment, quality assurance and support material
Candidate Guidance and Portfolio
Customer Service Award Leaflet
Group Award Specification