NPA Music for Wellbeing at SCQF Level 6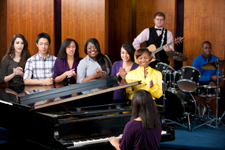 The National Progression Award (NPA) Music for Wellbeing at SCQF level 6 provides learners with the basic knowledge required for employment in settings where music could be used to promote wellbeing.
Music for wellbeing is participatory music-making that has the potential to enhance people's lives. The field of music for wellbeing is large and encompasses many and varied groups/activities from pre-school children joining in percussion sessions through ex-offenders' groups recording their own tracks, to older people in residential care enjoying community singing.
This qualification is widely available.
Use the tabs below to open each section individually. Alternatively you can show allhide all the sections.
Why deliver this qualification
The National Progression Award (NPA) Music for Wellbeing at SCQF level 6 is funded by the Scottish Funding Council.
This course is particularly suitable for candidates to undertake on a part-time basis or as part of partnership working between colleges, schools and community-based centres. This could be facilitated by the use of VLEs and e-portfolios for delivery and assessment. Many of the Units have aspects that involve the candidate in reflecting on and evaluating their own performance and an e-portfolio would be an ideal way to gather this evidence.
Who does this qualification suit
This course is aimed at music practitioners who are already working, or want to work, in this rewarding area and who wish to develop the knowledge and skills to enhance the effectiveness of the activities that they produce. The course is not designed to give candidates the musical skills required — candidates are expected to have developed a level of musical competency before entry to the course. Nor is it a course in music therapy; although some of the content of the course may awaken an interest of this area in candidates.
Access
Access to the award is at the discretion of individual centres; however, it is highly recommended that candidates have achieved at least SCQF level 5 in performing on a musical instrument or voice or equivalent life experience in the field of music in community settings.
The recommended minimum levels of Core Skills for accessing the course are:
Problem Solving SCQF level 4
Communication SCQF level 5
Numeracy SCQF level 4
ICT SCQF level 4
Working with Others SCQF level 5
Progression
There are progression pathways to Higher National Music courses and HNC Working with Communities, to degree and masters level courses.
Approval
Centres with devolved authority for approval should use their own internal approval process.
Centres without devolved authority will have to come forward for approval and should contact SQA's Business Development Team for guidance.
Assessors and verifiers must be able to meet SQA's general requirements for technical/occupational competence as outlined in the Guide to Approval.
How to assess
Assessment of the more practical units will ideally take place in real, or very realistic simulations of, musical workshop/event environments.
Some Units are suitable for e-assessment. Individual Unit Specifications give guidelines as to where it might be possible to use e-assessment.
Where can you take this course?
Qualification content and delivery tools
Qualification structure
The National Progression Award in Music for Wellbeing at SCQF level 6 consists of three mandatory units and one optional unit from a choice or two at SCQF level 6. Learners much achieve 4 credits (24 SCQF credit points) to gain this qualification.
For further information on the units and structure of the qualification please refer to the Group Award Specification document.
Offer this qualification