PDA Domestic Abuse Advocacy SCQF level 7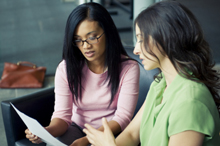 Professional Development Awards (PDAs) extend or broaden professional or vocational skills and are linked to National Occupational Standards. The PDA in Domestic Abuse Advocacy at SCQF level 7 is designed to strengthen and support the workforce by equipping individuals with the knowledge and skills to offer consistent, safe and effective responses to high-risk victims of domestic abuse.
Currently, there is no other specific domestic abuse advocacy qualification in Scotland. This qualification gives domestic abuse advocates recognition of the skills they possess and the activities they undertake.
The qualification is available through SQA-approved colleges and training providers.
Use the tabs below to open each section individually. Alternatively you can show allhide all the sections.
Why deliver this qualification
The Scottish Government's work to address violence against women over the period 2012 -15 focuses on early intervention/prevention and multi-agency working. The Scottish Government has also specifically mentioned the need to provide services for women who choose to continue a relationship that involves domestic abuse, including support, risk assessment, safety planning and access to domestic abuse advocates who are specifically skilled in this area.
Who does this qualification suit
The Professional Development Award in Domestic Abuse Advocacy will be suitable for those who are:
currently working as an independent domestic abuse advocate/practitioner
about to start work as an independent domestic abuse advocate/practitioner
a manager of a service that supports victims of domestic abuse
Access
Entry to this qualification is at the discretion of the centre.
The PDA is primarily to develop the skills, knowledge, and competence of domestic abuse advocates/practitioners.
It is recommended that potential candidates are able to demonstrate effective written and oral communication skills as well as relevant work experience which may include:
prior knowledge of the dynamics of domestic abuse
knowledge of the gendered nature of domestic abuse
work in the domestic abuse support sector in a capacity that allows them to demonstrate the Evidence Requirements for this award
Progression
The PDA is not designed to articulate with a particular degree programme and there is currently no progression from this qualification. Although, for example, successful candidates could go on to study the Gender Justice and Violence: Feminist Approaches (CPD). This course was developed by Scottish Women's Aid in collaboration with the university.
Approval
Centres will have to come forward for approval and should contact the Business Development Team for guidance..
Assessors and verifiers must be able to meet SQA's general requirements for technical/occupational competence.
How to assess
Candidates must provide evidence for all the Evidence Requirements and all of the knowledge and skills. The evidence they provide should relate to their own work setting where possible.
Candidates are assessed by assignments that include written reflective accounts about their work practice (ranging from 200-1000 words). Candidates also answer short-response questions.
Details of integration assessments can be found in each of the Units.
The Unit specifications making up this Group Award have been designed to ensure that there are no unnecessary barriers to learning or assessment. The individual needs of learners will be taken into account when planning learning experiences, selecting assessment methods or considering alternative evidence. Further advice can be found on our website www.sqa.org.uk/assessmentarrangements.
Internal and external verification
All instruments of assessment used within this/these qualification(s) should be internally verified, using the appropriate policy within the centre and the guidelines set by SQA.
External verification will be carried out by SQA to ensure that internal assessment is within the national guidelines for these qualifications.
Further information on internal and external verification can be found in the Guide to Assessment (643 KB).
Where can you take this course?
Group Award Specification
Group Award Code: GG2C 47
This qualification is made up of 4.5 SQA Unit credits. It comprises three mandatory Units and one Mandatory Optional Unit (44 SCQF credit points) at SCQF level 7.
For further information on the Units and structure of this qualification, please refer to the following Group Award Specification document.