SVQ in Kilt Making at SCQF level 6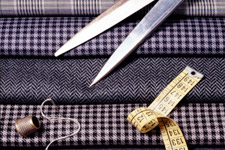 Scottish Vocational Qualifications (SVQs) recognise competence in job-related skills and are based on National Occupational Standards.
The Scottish Vocational Qualification (SVQ) in Kilt Making at SCQF level 6 allows candidates to demonstrate competence in job-related skills associated with kilt making. It covers traditional hand sewing skills as well as machine sewing processes used in kilt making. Areas such as health and safety, quality control and organisational skills are also included.
This qualification has been designed in partnership with UK Fashion and Textile Association (UKFT).
This qualification is available through employers and training providers.
Use the tabs below to open each section individually. Alternatively you can show allhide all the sections.
Where can you take this course?
Qualification content and delivery tools
Information about the qualification(s)
Qualification Structure
National Occupational Standards
Unit information for this qualification is available on our Unit Search.
Information about delivery, assessment, quality assurance and support material
Assessment strategy
Candidate Guidance and Portfolio
Candidate Recording Forms
There is no SVQ Portfolio currently available.
Candidate Disclaimer for SVQ Portfolio
Qualification Verification Summary Reports
Assessment guidance