PDA Childhood Practice SCQF level 8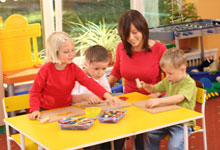 Professional Development Awards (PDAs) extend or broaden professional or vocational skills and are linked to National Occupational Standards.
The PDA in Childhood Practice at SCQF level 8 covers enhanced professional practice, leadership and team working, integrated working and collaborative practice, policy to practice, and pedagogical approaches.
This qualification is available through colleges, training providers and some employers. It has been designed to be delivered as a taught course and will normally be available as a combination of workshops and self-directed study.
Use the tabs below to open each section individually. Alternatively you can show allhide all the sections.
Why deliver this qualification
The PDA in Childhood Practice at SCQF level 8 has developed in partnership with employers and industry so it is suitable for the current sector.
It will help employers meet skills gaps and provide continuing professional development for staff, while learners will gain knowledge and skills needed for progression in the workplace.
It can also be offered to people who are in training and who wish to gain employment in the sector.
The unit-based structure aids timetable flexibility. Units are typically 40 hours of learning and they can be delivered on a full-time or part-time basis.
This PDA provides progression routes to further study (see Progression).
Who does this qualification suit
Learners should be working in, or have access to a placement in the childhood practice sector. Due to the diversity of roles within the sector, learners may not be working directly with children but may be in a co-ordinating role.
This PDA will give learners the opportunity to use extensive work experience to advance their learning beyond that of the practitioner role.
Access
Entry to this qualification is at the discretion of the centre.
Learners would benefit from having attained the skills, knowledge and understanding required by one or more of the following or equivalent qualifications and/or experience:
a practitioner qualification as required by the SSSC, for example, HNC Childhood Practice/ SVQ Social Services (Children and Young People) at SCQF level 7 or any previous practitioner award recognised by the SSSC
Progression
The Units in the PDA have been mapped against the National Occupational Standards for Social Services Children and Young people.
The units of this award form part of the mandatory section of the HND Childhood Practice GM93 48
The PDA Childhood Practice at SCQF level 8 allows learners to achieve 80 SCQF level 8 credits towards the 120 SCQF level 8 credits necessary to progress to the PDA Childhood Practice Award at SCQF level 9.
The PDA Childhood Practice at SCQF level 8 may also be accepted by universities that offer the BA in Childhood Practice. The level of articulation is at the discretion of each university.
Approval
Centres with devolved authority for approval should use their own internal approval process.
Centres without devolved authority require to come forward for approval and should contact SQA's Business Development Team for guidance.
Assessors and verifiers must be able to meet SQA's general requirements for technical/occupational competence as outlined in the Systems and Qualification Approval Guide.
How to assess
Each unit specification gives detailed information on the evidence requirements and approaches to assessment for the unit.
The PDA may be delivered in a variety of different ways which will reflect the learning, employment and development needs of individual learners and employing organisations. The most common method of delivery will be to learners who are currently in full- or part-time employment and will be studying on a part-time basis.
Modes of delivery could include classroom learning, online learning, distance learning — or a combination of these.
It is recommended that assessments are integrated where the opportunity arises.
While each HN unit has very specific evidence requirements and assessment guidance, it is strongly recommended that where an overlap between units occurs an assessment from one unit should be considered to meet some or all of the evidence requirements from the other units to avoid the possibility of over-assessment.
Where can you take this course?
Qualification Structure
This group award is achieved on the successful attainment of the five following mandatory units.
| Unit Title | Code | Credit Value | SCQF Credits | SCQF Level |
| --- | --- | --- | --- | --- |
| Childhood Practice: Enhanced Professional Practice | HT8J | 2 | 16 | 8 |
| Childhood Practice: Leadership and Team Working | HT8K | 2 | 16 | 8 |
| Childhood Practice: Integrated Working and Collaborative Practice | HT8L | 2 | 16 | 8 |
| Childhood Practice: Policy to Practice | HT8M | 2 | 16 | 8 |
| Childhood Practice: Pedagogical Approaches | HT8N | 2 | 16 | 8 |
The qualification is at SCQF level 8 and reflects this competency level. It comprises 80 credits at SCQF level 8. The award is matched to the Revised Childhood Practice Standards and the National Occupational Standards. This award replaces the PDA Childhood Practice (G96H 48) which comprised 64 credits.
Group Award Specification