PDA Analysing Resilience SCQF level 7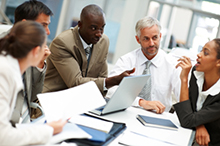 Professional Development Awards (PDAs) extend or broaden professional or vocational skills and are linked to National Occupational Standards. The PDA in Analysing Resilience at SCQF level 7 covers the following specialist skills/high-level transferable skills: analysing resilience management; project management; organisational innovation; and learning and development. It is intended for those working in emergency planning, response and recovery.
The PDA in Analysing Resilience at SCQF level 7 has been developed in partnership with the Scottish Resilience Development Service (ScoRDS) and is jointly awarded with The Chartered Management Institute (CMI).
The delivery of the qualification is awarded through a contract with ScoRDS and is currently offered through New College Lanarkshire..
Use the tabs below to open each section individually. Alternatively you can show allhide all the sections.
Why deliver this qualification
The PDA in Analysing Resilience has been designed as a practitioner award, which will contribute to the professional development of those in resilience roles who are in the position to lead on small to medium projects, as well as those who are planning to move into the role in the near future.
It will help Category 1 responders (as defined by the Civil Contingencies Act 2004), meet skills gaps and provide continuing professional development for staff. It can also be offered to people who are in training and who wish to gain employment in the sector, allowing learners to gain the knowledge and skills needed for progression in the workplace.
Who does this qualification suit
The PDA in Analysing Resilience will be suitable for learners who are in resilience roles and who are in the position to lead on small to medium projects in Category 1 responder organisations. They are likely to be employed in one of the following key responder organisations:
Scottish Police Service
Scottish Fire and Rescue Service
Scottish Ambulance Service
Maritime and Coastguard Agency
Local authorities
NHS boards
Scottish Environmental Protection Agency (SEPA)
It is also suitable for those who expect to take up such posts in the imminent future, particularly those who are new to the job or aspiring to be in a resilience role.
Access
Entry to the PDA will be at the discretion of the approved centre. However, learners will need access to a relevant workplace situation in order to gather evidence for the Units.
Communication skills of at least SCQF level 5 are expected. Potential learners should be able to demonstrate that they are capable of pursuing an award at SCQF level 7. This can be illustrated by prior achievement or experience at SCQF level 6.
Approval
Centres with devolved authority for approval should use their own internal approval process.
Centres without devolved authority require to come forward for approval and should contact SQA's Business Development Team for guidance.
Assessors and verifiers must be able to meet SQA's general requirements for technical/occupational competence as outlined in the Systems and Qualification Approval Guide (510 KB).
How to assess
Each individual Unit specification gives detailed information on the Evidence Requirements and approaches to assessment for each Unit.
The Units are practical and delivery should draw on the learners' experience of working in Category 1 responder organisations. Learners are expected to use material gathered from their own workplace experience.
The Unit-based structure aids timetable flexibility. Units are typically 40 hours of learning and they can be delivered on a full-time or part-time basis.
Ongoing course assessment will apply. Assessment will consist of a combination of reports, work-based projects, case studies and presentations which will allow learners to enhance their own practice.
Where can you take this course?
Qualification Structure
Group Award code: GJ33 47 (40 SCQF credit points)
The PDA in in Analysing Resilience at SCQF level 7 consists of Units to the equivalent of 40 SCQF credit points; 24 of these credit points are mandatory. The remaining 16 credit points are achieved by following one of two routes, and learners will be required to select either Route A or Route B.
For further information on the structure and Units making up this qualification, please refer to the Arrangements document.
Group Award Specification