NC Dance SCQF level 6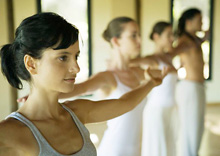 National Certificates (NCs) are practical qualifications that are designed to equip learners with the knowledge and skills (including Core Skills) required for further study or to gain employment.
The NC in Dance at SCQF level 6 is designed for those with an interest in dance. It develops skills, knowledge and understanding of a range of practical aspects of dance, such as different genres (eg classical ballet, tap, jazz, hip hop, etc); choreography; safe dance practice; and commercial dance. It also includes a range of theory topics such as anatomy; dance appreciation; dance and technology; and history of dance. It also develops transferable skills such as self-discipline, professionalism, commitment, collaboration and creative thinking which are vital for the dance industry.
National Certificates (NCs) are designed for full-time delivery over one year (or part-time over two years) and are available through schools, colleges and training providers.
Alternative assessment guidance
This subject will not have alternative assessment guidance for session 2023-24. You should refer to the Group Award/Unit specifications for detailed delivery and assessment information. For general support on delivery and assessment see the HNVQ assessment guidance 2023-24.
Qualification structure
How to assess
Each Unit specification gives detailed information on the Evidence Requirements and approaches to assessment for the Unit.
Assessment of this NC is through a series of practical and theoretical assessments or tasks. Some assessments will be carried out under supervised conditions and practical assessments are recorded.
Each Unit can be assessed separately. However, there are opportunities to combine the delivery and assessment of various Units. For example, the Dance: Anatomy, Conditioning and Safe Practice Unit works well with a wide range of different dance genre Units, as well as the Dance: Etiquette and Personal Development Unit.
Practical Units require that candidates demonstrate technical and performance skills and techniques for particular dance genres and other aspects of dance. Evidence for theoretical Units can take a wide variety formats including written work; e-portfolios; presentations; wikis, blogs etc.
Assessment Support Packs (ASPs) are available for selected Units and can be found on SQA's secure website. ASPs identify specific opportunities for integration with other Units. To assist assessors, there are ASPs in traditional format for some theory Units and filmed versions for some practical Units.
Deliver this qualification
Thinking of working with us?
Existing customer?
Where can you take this course?
Why study this qualification
This NC is suitable for a wide range of candidates including:
S5/S6 school pupils
School leavers
Adult returners to education
Learners looking to progress to an HNC/HND
Access
Entry is at the discretion of the centre.
Learners should have an interest and/or some experience in dance and performance. Those who have no formal qualifications may have suitable life or work experience to show that they will be able to undertake Units at SCQF level 6, eg adult returners.
Those who wish to undertake this qualification would benefit from previous experience of any of the following areas:
NPA in Dance at SCQF levels 4 or 5
National 5 Dance
Group of NQ Dance Units at SCQF level 5
Higher Dance Practice
Programmes of study and qualifications in dance offered by private dance schools/performing arts centres
However, the key criterion is that the learner has a realistic chance of achieving this qualification.
Employment and progression
The NC in Dance at SCQF level 6 may provide progression opportunities to:
HNC Contemporary Dance Performance
HNC Dance Artists
HNC Professional Dance Performance
HNC Musical Theatre
Also, once in employment in the dance/performing arts sector, there are opportunities for continued study dance or working towards professional recognition.
Qualification structure
Where can you take this course?