Become a centre - offer your first SQA qualification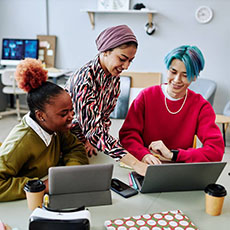 To offer SQA qualifications you must first become an approved SQA centre. This ensures each organisation delivering SQA qualifications has the right set-up and meets quality standards to deliver for learners.
Below you will find more information about the approval process. Our dedicated team are here to support you and your organisation through the process. You'll be assigned a point of contact who will answer any questions you may have and keep you up to date on the progress of your application.
Use the tabs below to open each section individually. Alternatively you can show allhide all the sections.
Why choose SQA?
We offer internationally recognised qualifications and services at affordable prices with solutions that are right for you.
About us
100 years' experience in qualification design
an awarding body with a global reputation for quality
national accreditation and awarding body (Ofqual recognised)
experts in assessment
Internationally recognised qualifications
We offer a portfolio of regulated, non-regulated and bespoke qualifications and assessments that are relevant and flexible, embedding and instilling industry standards in over 30 sectors.
Named Account Manager
All SQA Approved centres are assigned their own Account Manager - a personal contact who will take time to learn about you and your business.
Expert customer support team
In addition to your named contact, you'll have the help and support of our experienced customer team ready to take your calls.
Value for money
You'll benefit from our simple pricing structure; there are no annual fees and we don't charge for External Verifier visits. We operate on a 'pay-as-you-go' basis with no minimum spend.
Trusted subject experts
All of our External Verifiers are subject specialists guaranteeing the highest standards of quality assurance through an in-depth knowledge of your sector.
Read our case studies
We have a growing selection of case studies from our customers to help you decide if working with SQA is right for you.
Approval application process
Contact us
Complete the enquiry form.
Pre-application stage
We'll meet with you to discuss becoming an SQA Centre, including if it's right for your organisation.
If you would still like to apply after that, we'll then send further information and carry out due diligence, including a soft finance check.
Application stage
Next, we send you the relevant documents and forms to apply for the two parts of approval:
Systems approval – this confirms that your centre has management and systems needed to deliver, assess and internally verify SQA qualifications.
Qualification approval – this confirms that your centre has the materials and resources to deliver, assess and internally verify SQA qualifications.
Application review stage
We'll review your application. This includes:
a centre approval meeting by a Quality Enhancement Manager and
a subject approval meeting by a subject expert External verifier.
After review, the Quality Enhancement Manager and External Verifier will submit a report and communicate any feedback and recommendations to you.
Outcome - centre approval
There are two possible outcomes: 'approved' or 'not yet approved'.
Approved - We'll provide a centre operating agreement (COA), which you must sign and return to SQA. We then issue your centre number, and you can start registering candidates.

Not yet approved - We'll offer to help you re-apply.