NPA Events (SCQF Level 4)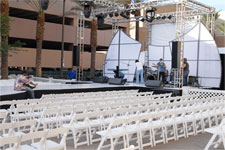 The National Progression Award (NPA) in Events at SCQF level 4 has been developed to provide individuals with the initial skills they will need to pursue a career in the events industry.
The NPA Events at SCQF level 4 develops knowledge in areas such as: assisting with events; hospitality: introduction to events; skills for customer care; IT solutions for administrators; and digital culture: social software, all of which provide the essential skills required for those pursuing a career in the events sector.
The award has been designed to develop: practical, technical and transferable skills; oral, written and evaluation abilities; problem solving and planning; and organisational and communication skills.
The qualification is available through schools and colleges.
Use the tabs below to open each section individually. Alternatively you can show allhide all the sections.
Why deliver this qualification
The new National Progression Award (NPA) in Events at SCQF level 4 has been developed in partnership with employers and industry to provide learners with a nationally-recognised and certificated group award. The aim of the award is to develop a highly skilled, trained and motivated workforce through the development of key skills which are performed to a high standard. This award will ensure a consistent standard across schools and colleges, equipping learners with the skills and knowledge required for progression to further qualifications and/or employment in a wide range of roles across the events industry.
The NPA Events at SCQF level 4 has been developed to provide school-age learners, or those with no formal qualifications, with a platform in which to pursue a career in the events industry. In terms of content and context, the award is flexible, allowing learners the opportunity to develop transferable and essential skills, which could be applied to various career or further study options. The award has primarily been designed as a pre-employment qualification, but it is suitable for anyone who wishes for a practical introduction to events, and could be delivered as part of a school/college partnership.
Who does this qualification suit
This qualification is suitable for a wide range of learners including:
pupils from mainstream schools or other education establishments
school leavers
adult returners to education
learners in employment who wish to enhance their career prospects
learners participating in 16+ programmes
college students wishing to develop their skills and knowledge in relation to retailing
trainees participating in preparation for entering employment
individuals involved in voluntary activities
Access
Entry is at the discretion of the centre.
Progression
On completion of this award successful learners can progress to:
Further/higher education
National Certificate in Events Co-ordination
Vocational training
Suitable training/employment in a events related sector
Approval
Centres with devolved authority for approval should use their own internal approval process.
Centres without devolved authority will have to come forward for approval and should contact SQA's Business Development Team for guidance.
Assessors and verifiers must be able to meet SQA's general requirements for technical/occupational competence as outlined in the Guide to Approval (510 KB).
How to assess
Each individual unit specification gives detailed information on the evidence requirements and approaches to assessment for each unit.
Ongoing course assessment will apply. Integration of assessment is encouraged.
Assessment will allow candidates to enhance their own practice and develop their technical skills.
Where can you take this course?
Qualification content and delivery tools
Qualification structure
NPA Events at SCQF level 4
Group Award code: GM1Y 44 (24 SCQF credit points)
To achieve the NPA Events at SCQF level 4, learners must achieve 4 mandatory units (24 SCQF credit points)
NPA Events (SCQF Level 4) (325 KB)
Qualification Verification Summary Reports
Qualification Verification Summary Reports were formerly known as Internal Assessment Reports.
Offer this qualification