NPA Scientific Technologies SCQF level 6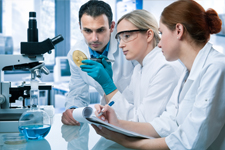 National Progression Awards (NPAs) assess a defined set of skills and knowledge in specialist vocational areas, linked to National Occupational Standards. Scientific Technologies SCQF level 6 introduces learners to the knowledge and skills that are important in science-based industries.
This National Progression Award (NPA) develops knowledge and understanding of Scientific Technologies; practical, technical and transferable skills; oral, written and evaluation abilities; problem solving and planning skills; and organisational and communication skills.
This qualification covers areas such as experimental procedures, laboratory safety, fundamental chemistry, and mathematics for science.
The qualification is available through schools, colleges and training providers.
Alternative assessment guidance
This subject will not have alternative assessment guidance for session 2023-24. You should refer to the Group Award/Unit specifications for detailed delivery and assessment information. For general support on delivery and assessment see the HNVQ assessment guidance 2023-24.
Qualification structure
How to assess
Assessment of this award will be a combination of practical and knowledge assessments under closed- and open-book assessment conditions. It is recommended that centres refer to the assessment and performance criteria for each unit.
Assessment support packs are available for this qualification.
The delivery of the award is at the individual centre's discretion.
Qualification Verification Summary Report
Deliver this qualification
Thinking of working with us?
Existing customer?
Understanding Standards
To support the delivery and assessment of all of the NPAs in science, the following generic audio presentations have been published on the Science NPAs section of the Understanding Standards Site:
Evidence requirements
Internal verification and standardisation
Lab reports, lab diaries and proformas
Selecting practicals
In addition, Understanding Standards documents have been developed for the following:
Experimental Procedures: Science
Marking guidance for organic chemistry assessments
To access these Understanding Standards documents, please visit the Understanding Standards website. This is a password-protected area of the website and login details can be obtained from the SQA Co-ordinator in centres approved to deliver the qualifications.
Changes to understanding standards materials
Please note: Understanding Standards materials are regularly reviewed to ensure they remain up to date.
Resources
Where can you take this course?
Why study this qualification
The NPA is suitable for:
learners who are at school or who may have just left school
mature individuals who may have been out of education for a long period of time
individuals who are currently in employment and wish to obtain a formal qualification
those who are looking to access HN programmes
learners who want to study at a pace and style that they determine
employees who want to develop their careers
individuals who are seeking national recognition of their achievements
employers who wish their employees to take part in short continuing professional development courses
Access
Entry is at the discretion of the centre. However, it is recommended for learners entering the SCQF level 6 award to have completed some training at SCQF level 5.
Foundation Apprenticeship
This NPA is a mandatory component in the SCQF level 6 Foundation Apprenticeship in Scientific Technologies.
SQA also offers the following components of this Foundation Apprenticeship:
| Code | Unit title |
| --- | --- |
| FY9W 04 | Follow Health and Safety Procedures for Scientific or Technical Activities |
| H00C 04 | Carry Out Simple Scientific or Technical Tests Using Manual Equipment |
| H00J 04 | Prepare Compounds and Solutions for Scientific or Technical Use |
Employment and progression
The SCQF level 6 award could provide progression to:
an HNC/HND in Applied Sciences/Applied Biological Sciences/Applied Chemical Sciences or related area
a Modern Apprenticeship in Life Science and Related Science Industries
a Technical Apprenticeship in Life Science and Related Science Industries
employment in the science sector, perhaps as a laboratory assistant or a laboratory technician
Qualification structure
Where can you take this course?