PDA Enhanced Home Care Workers SCQF level 7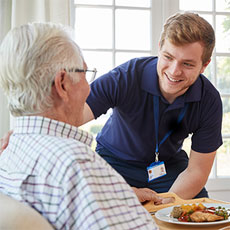 The Professional Development Award (PDA) for Enhanced Home Care Workers at SCQF level 7 has been developed in response to the growing need for a qualification for experienced Home Care Workers. This has been prompted by a change in the way people receive health treatment and are cared for. Increasingly, people with chronic health conditions are treated and cared for at home, when previously they would have remained in hospitals, nursing homes or care homes. People with disabilities are encouraged to remain as independent as possible in their own homes too. This, combined with an ageing population, means that the role of the Home Care Worker is evolving, which this qualification recognises.
The PDA covers areas such as:
healthcare for enhanced home care workers
effective communication for enhanced home care workers
assisted living technology for home care
self-development for enhanced home care workers
The qualification is available through colleges.
Use the tabs below to open each section individually. Alternatively you can show allhide all the sections.
Why deliver this qualification
The aim of this PDA is to help equip experienced home care workers with the knowledge and skills required to support people at home who may have multiple, complex or chronic health conditions or disabilities.
People are being cared for at home when previously they would have remained in hospital or nursing homes. This new qualification is a response to the growing need for enhanced knowledge and skills required to meet this change.
Who does this qualification suit
This PDA is for people who are working in home care and already have some experience. They will already have completed basic training, be familiar with the National Occupational Standards, and been practicing as a home care worker.
The knowledge and skills learners will develop as they undertake the PDA are:
knowledge of common, chronic health conditions and the skills needed to support someone living with these conditions at home
ways of encouraging people to be as independent and self-managing of their health conditions as possible
knowledge of assisted living technologies and how these can enable people to live at home
how enhanced communication skills can be used to support people emotionally, and empower people to be as self-managing as possible
how to be a reflective practitioner, who continuously develops their practice by analysing, making use of feedback, and responding to current changes
Access
Entry is at the discretion of the centre.
Learners would benefit from having attained the skills, knowledge, and understanding required by one or more of the following or equivalent qualifications and/or experience:
Experience of working in home care and presently employed as a home care worker
SVQ level 2 or 3 in Social Services and Healthcare, or equivalent
Progression
Completion of this PDA may lead on to further courses such as the HNC in Social Services.
Approval
Centres which are interested in offering this qualification are required to come forward for approval and should contact SQA's Business Development Team for guidance.
Assessors and verifiers must be able to meet SQA's general requirements for technical/occupational competence, as outlined in the Systems and Qualification Approval Guide. The specific delivery requirements are set out in the Group Award Specification (Arrangements Document).
How to assess
Each individual unit specification gives detailed information on the evidence requirements and approaches to assessment for each unit.
Where can you take this course?
Qualification Structure
Qualifications Structure
Group Award code: GP06 47 (32 SCQF credit points)
Structure
The PDA for Enhanced Home Care Workers at SCQF level 7 consists of four mandatory units.
Group Award Specification