PDA Supporting the Healthcare Team in the Workplace SCQF level 8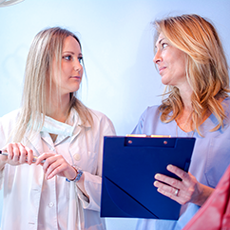 The PDA in Supporting the Healthcare Team in the Workplace at SCQF level 8 covers the following specialist skills:
producing an induction programme for a new member of staff 
carrying out an effective induction 
evaluating the effectiveness of the induction programme
mentoring a new or existing member of staff
evaluating the role and function of mentoring within the workplace
explaining the process of performance management within the workplace and evaluating its value in promoting personal development 
The PDA is designed to support those who provide induction and mentoring to team members in a range of healthcare environments. Many staff working in the healthcare environment progress and develop into a management or supervisory role through practical workplace experience, with little formal training in supporting staff, specifically, induction, mentoring, or conducting appraisals. 
This qualification aims to provide a formal learning opportunity, combining training and support to develop the practical skills that enable healthcare staff to develop professionally and support their teams to provide safe, effective and quality patient care, in a variety of healthcare settings.
This qualification is available through colleges, training providers and some employers. It has been designed to be delivered as a taught course and will normally be available as a combination of workshops and self-directed study.
Use the tabs below to open each section individually. Alternatively you can show allhide all the sections.
Why deliver this qualification
The PDA in Supporting the Healthcare Team in the Workplace at SCQF level 8 has been developed in partnership with employers and industry, therefore, it is suitable for the sector.
It will also help employers to meet skills gaps and provide continuing professional development for staff, while learners will gain the knowledge and skills needed for progression in the workplace.
The unit-based structure aids timetable flexibility. Units are typically 40 hours of learning and they can be delivered on a full-time or part-time basis.
This PDA provides progression routes to further study (see Progression). 
Who does this qualification suit
This qualification has been designed for those already in employment in a range of healthcare settings, such as oral health care, optical assistants, etc.
Access
Access to this PDA is at the discretion of the centre. Learners should be involved with the induction and support of new and existing staff, mentoring and contributing to performance reviews within an appraisal system. This will enable learners to reflect on previous experiences, their personal skills, and critique workplace processes, towards identifying recommendations for improvements where required.
It is recommended that learners should have strong communication and interpersonal skills which may be evidenced by previous achievement of relevant qualifications at SCQF level 6 or above, for example Higher English.
Progression
Successful completion of the individual unit of this PDA will offer learners the opportunity to progress within their relevant healthcare sector, for example, the HND in Dental Nursing.
Approval
Centres with devolved authority for approval should use their own internal approval process.
Centres without devolved authority are required to come forward for approval and should contact SQA's Business Development Team for guidance.
Assessors and verifiers must be able to meet SQA's general requirements for technical/occupational competence as outlined in the Systems and Qualification Approval Guide.
How to assess
Each individual unit specification gives detailed information on the evidence requirements and approaches to assessment for each unit.
The following methods of delivery may be suitable:
workshops/tutorials
problem based scenarios/case studies
group work
online materials
Ongoing course assessment will apply. Centres may develop their own materials. The use of prior verification for centre-devised materials is recommended.
Where can you take this course?
Qualification Structure
Group award code: GP5M 48 (16 SCQF credit points)
The PDA in Supporting the Healthcare Team in the Workplace at SCQF level 8 consists of one mandatory double-credit unit:
| Code | Unit title | SQA credit | SCQF credit points | SCQF level |
| --- | --- | --- | --- | --- |
| J1LM 35 | Supporting the Healthcare Team in the Workplace  | 2 | 10 | 8 |
Group Award Specifications
Mapping
Healthcare environment workplace policies and procedures must be aligned to relevant current guidelines and legislation.
The unit content has been designed to give cognisance to relevant standards, for example, Health and Safety Executive: COSHH, RIDDOR and General Data Protection Regulation (GDPR).