Working with us
International qualifications and services with SQA
We are an experienced global awarding body offering recognised international qualifications and consultancy services to a wide range of customers including schools, colleges, higher education institutions and employers. With over 30 years' experience, we are trusted to develop and deliver the right solutions for our customers.
Where we work
SQA works in 20 countries covering three regions: Asia Pacific, Middle East & Europe, and South Asia. We have a large and diverse customer base, including schools, colleges, universities, employers and local government.
Asia Pacific
USA
Canada
Mexico
Singapore
Malaysia
Vietnam
Indonesia
Thailand
China
Middle East
and Europe
UAE
Oman
The Netherlands
Switzerland
Latvia
Malta
Greece
Cyprus
Why work with us?
At SQA, we pride ourselves in embedding our values to deliver our products and services and we have been able to demonstrate in practice that working with us is beneficial for our international customers and partners. Here are the three key reasons why our customers choose us. The short video below provides an overview of what we do, the services we provide, and how we support our customers during their journey with us.
1

We care about our people and our customers

At SQA, we know our people are our biggest asset – our staff are committed to delivering tailored solutions to help your business grow.
2

Credibility is important to us

We deliver robust, internationally recognised qualifications. We've been helping businesses and learners succeed for over 100 years, delivering excellence every step of the way.
3

We are forward thinking

We embrace change and adapt to meet evolving customer needs through continually designing, updating and refining qualifications, assessments and qualifications systems, using the latest technology and innovation to achieve this.
Case studies and helpful resources
Find helpful links to get more information on our international services, and case studies which showcase how SQA is supporting customers across different sectors and helping them deliver the best solution to their needs.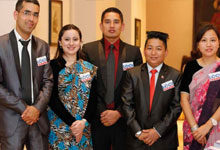 LCCI Global Qualifications Case Study
LCCI Global Qualifications partnered with SQA to offer internationally recognised, robust qualifications.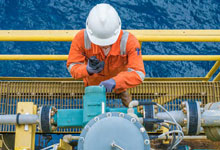 IHRDC Case Study
IHRDC worked with SQA to align its competency models with SQA vocational standards.
Diploma to Degree
SQA's Diploma to Degree is a route for students to progress to a degree following completion of an SQA Advanced Diploma.
Customised Awards
We offer tailored qualifications specifically designed to meet your unique business needs.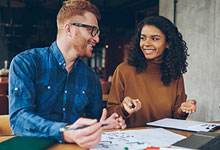 SQA Advanced Qualifications
Our qualifications provide routes into employment and higher education.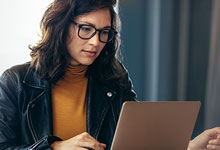 Consultancy
At SQA, we also offer a wide range of consultancy services tailored to meet your business needs.
What our customers say
Expertise and knowledge built over time across different markets and sectors allow SQA to support many organisations to meet their business needs and make a positive impact in the education industry. Find out what they say about us.
Our partnership with SQA added value and credibility to our portfolio of professional programmes in Soft Skills Training, with their extensive experience in developing high-quality qualifications which met our business needs. As an international leader in education, SQA helped us build worldwide recognition as a leading brand in the Soft Skills Training and Train the Trainer space, which is now in high demand in India.
We are grateful to work with SQA, an established organisation with rigorous, internationally recognised vocational standards that have made a positive impact on the education and employment potential for many individuals.
Start your journey
Thinking of offering an SQA qualification?