Muhannad Mohammed's journey from SQA Advanced Diploma to Accounting degree
Muhannad Mohammed shares his study pathway, starting with an Advanced Diploma to achieving an Accounting degree through an innovative partnership with Muscat College and the University of Stirling.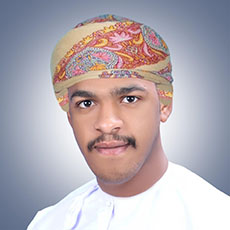 What attracted you to higher education?
When I finished high school, I was unsure which path to take, but I was fortunate to have support and advice from my friends and family, who helped me understand my options. There are a lot of choices straight out of school, and it was at times confusing, but after taking a breath, I started to review my options and further study seemed the right path for me. I wanted to study to degree level and when I heard about SQA's Diploma to Degree programme it sounded like a good option for me. I had just finished many years of school study, so I liked that it was a fast-track qualification to an internationally recognised degree.
What helped you choose your study path?
I had heard only good things about Muscat College where there were various courses and study options, so my search started there. What I really liked about this course was the fact that it offered options that were relevant to my study in accounting, helped me develop the skills I need in the workplace and help start my career. One of the study options that really stood out was the SQA Diploma to Degree programme. The fact this qualification would gain me entry into an undergraduate degree programme in universities around the world was very appealing, as not all courses offer this.

What made you chose the University of Stirling degree programme delivered by Muscat College?
Muscat College's partnership with the University of Stirling provided a real opportunity for me to gain an internationally recognised degree.
The University of Stirling is a well-established institution with a global track record of achievements in teaching and research. It was important for me to see that the university valued diversity and the unique contributions each student brings to the classroom. Moreover, the programme incorporated subjects that would help develop my employable skills, which is also invaluable.

How was your Diploma to Degree experience?
This experience, of course, is one of its kind. The transition from college to university was very smooth. It was great to study alongside other students from other countries and nationalities and I learned a lot both academically and socially. The Diploma to Degree pathway has given me a great opportunity to build on and I look forward to the future.