Diploma Digital Technology: Software Development SCQF level 6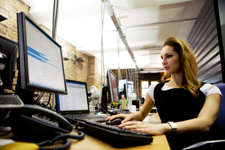 The Diploma in Digital Technology: Software Development at SCQF level 6 provides learners with a qualification that will demonstrate their aptitude in this area. This diploma will develop the learner's confidence and awareness of the skills that they have acquired which they can use for employment and/or further study.
This qualification covers areas such as applying problem solving approaches, producing documentation to support organisational process delivery, defining requirements to support project delivery, developing meta-skills and personal practice, supporting software design, contributing to implementing software development methodologies, supporting software solution development, providing support for deployed software solutions, and contributing to deploying software solutions.
This qualification is available through employers, colleges, and training providers.
Use the tabs below to open each section individually. Alternatively you can show allhide all the sections.
Why deliver this qualification
This diploma enables learners to demonstrate both knowledge and skills in a digital vocational area.
This qualification is based on the current version of Work Situations defined by Skills Development Scotland.
Candidates can progress to a range of courses at a higher level, allowing centres to retain or build student numbers.
The diploma can be offered within a workplace environment and training centres or colleges. The evidence demonstrating achievement of the qualification can be assessed within a workplace environment or, where simulation is used, within a realistic working environment.
Who does this qualification suit
This diploma is suitable for:
learners who have just left school
mature candidates who may have been out of education for some time
individuals who are currently in employment and who wish to obtain a formal qualification
people who wish to start their own business
employers who want their employees to undertake short continuing professional development courses
Access
Entry is at the discretion of the centre.
No prior qualifications or knowledge are required to undertake this qualification.
Progression
The level 6 award could provide progression to:
an HNC/HND in Computing or a related area
the Diploma in Digital Technology at SCQF Level 8
a PDA in a computing related discipline
degree level study at a higher education institution
employment in the digital sector
Approval
Centres without devolved authority are required to come forward for approval and should contact SQA's Business Development Team for guidance.
Assessors and verifiers must be able to meet SQA's general requirements for technical/occupational competence as outlined in the Systems and Qualification Approval Guide. The specific delivery requirements are set out in the assessment strategy.
How to assess
Assessment of this award will normally be through workplace activities, although simulation may be used in specific component units. Normally, candidates will be required to maintain a portfolio of workplace evidence, produced through routine work activities. Knowledge will be assessed where appropriate. Some assessments will be carried out under supervised open-book conditions, others under supervised closed-book conditions.
Where can you take this course?
Qualification content and delivery tools
Information about the qualification(s)
Qualification Structure
Group award code: GV2D 46
The Diploma in Digital Technology: Software Development at SCQF level 6 consists of 9 mandatory units. Please refer to the Qualification Structure (221 KB) for details of the units making up this qualification.
National Occupational Standards
Unit information for this qualification is available on our Unit Search.
Information about delivery, assessment, quality assurance and support material
Assessment strategy
Assessor's guidelines
Candidate Guidance and Portfolio