HNC Fabrication, Welding and Inspection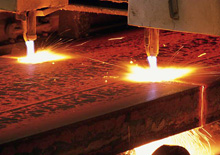 The HNC in Fabrication, Welding & Inspection award aims to develop the candidates' ability to apply analysis and synthesis skills to the solution of fabrication, welding and inspection problems and provides a range of communication skills relevant to the needs of incorporated engineers. The award allows the candidate to develop knowledge, understanding and skills in a range of core fabrication, welding, quality, materials and inspection systems principles and technologies at Higher National level and achieve a degree of specialisation within the following areas: Fabrication; Welding; Shipbuilding and/or Pipework Engineering.
Use the tabs below to open each section individually. Alternatively you can show allhide all the sections.
Alternative assessment guidance
This subject will not have alternative assessment guidance for session 2023-24. You should refer to the Group Award/Unit specifications for detailed delivery and assessment information. For general support on delivery and assessment see the HNVQ assessment guidance 2023-24.
Who does this qualification suit
The HNC Fabrication, Welding & Inspection provides you with an essential knowledge and skills platform for tackling many tasks and developing an in-depth knowledge of the industry.
Access
As with all SQA qualifications, entry is at the discretion of the centre. Examples of formal entry qualifications include:
National Certificate Group Award in Fabrication and Welding Engineering or Fabrication and Welding Engineering Practice, or a National Certificate Group Award in Engineering or Engineering Practice with the addition of Fabrication and Welding Units
Two Highers from Fabrication and Welding Engineering, Technological Studies, Graphic Communication, Craft and Design, or Physics
Advanced Certificate in Fabrication and Welding Engineering Practice
Equivalent qualifications from other awarding bodies such as GCSE, City and Guilds etc
If you have a different background (eg you have suitable work experience, or are an overseas student), you may be accepted if you can show that you could benefit from taking the course or individual Units.
If you are convinced that you already have the required competences in a given area, the centre may have alternative access arrangements, such as: assessment on demand, credit transfer, and accreditation of prior learning.
Employment and progression
If successful, you may decide to follow a career in industry, and the HNC should enable you to progress to a more senior level within a company as a Fabricator/Welder, sheet metal worker, or Quality Control Inspector.
If you are going to apply to a Professional Body, such as the Welding Institute, for membership, you should check the options required for membership — you may need to incorporate Mathematics for Engineering 1 and/or Engineering Project. Centre staff will be able to put you in touch with the Institute or you can contact them at www.twi.co.uk.
Many HNC holders go on to study for an HND.
What you'll learn
The core of the HNC is the principles that underlie the fabrication and welding industry. You will understand industrial practice in your local industry, the use of materials, and the effects of processes on their mechanical, physical and chemical properties. You will also study inspection methods to allow you to make informed decisions on the quality and serviceability of manufactured products.
You will also develop your analysis, synthesis, critical thinking, planning, organising, reviewing and evaluation skills.
Where can you take this course?
Group Award Specification