HNC Fabrication, Welding and Inspection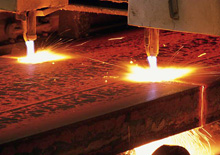 The HNC in Fabrication, Welding & Inspection award aims to develop the candidates' ability to apply analysis and synthesis skills to the solution of fabrication, welding and inspection problems and provides a range of communication skills relevant to the needs of incorporated engineers. The award allows the candidate to develop knowledge, understanding and skills in a range of core fabrication, welding, quality, materials and inspection systems principles and technologies at Higher National level and achieve a degree of specialisation within the following areas: Fabrication; Welding; Shipbuilding and/or Pipework Engineering.
Use the tabs below to open each section individually. Alternatively you can show allhide all the sections.
Candidate Information
The HNC Fabrication, Welding & Inspection provides you with an essential knowledge and skills platform for tackling many tasks and developing an in-depth knowledge of the industry...Find out more
Where can you take this course?
Group Award Specification