HNC/HND Computer Aided Draughting and Design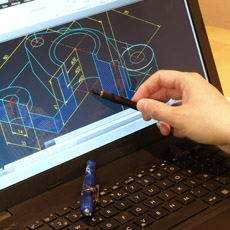 Higher National qualifications provide practical skills and theoretical knowledge that meet the needs of employers. The HNC and HND Computer Aided Draughting and Design give learners the opportunity to develop the practical skills and underpinning knowledge of CAD, the design process and wider engineering technology.
Specific tasks covered in these qualifications include the use of a CAD system to produce 2-dimensional details and drawings, 3-dimensional part and assembly models, 3D animations, and technical illustrations. Other tasks that may be covered include the production of physical prototypes (produced by hand and 3D-printed), creation of hand-drawn sketches, using mathematics skills to solve design problems, and presenting final design solutions using traditional and technological processes.
The Computer Aided Draughting and Design qualifications are available through colleges. Typically, an HNC takes one year to complete and an HND takes two years.
Use the tabs below to open each section individually. Alternatively you can show allhide all the sections.
Alternative assessment guidance
This subject will not have alternative assessment guidance for session 2023-24. You should refer to the Group Award/Unit specifications for detailed delivery and assessment information. For general support on delivery and assessment see the HNVQ assessment guidance 2023-24.
Why deliver this qualification
Higher National qualifications have been developed by SQA in partnership with colleges, universities and industry - so employers recognise that they provide sound evidence of ability.
There is a wide choice of optional units which will enable centres to offer courses tailored to meet local needs.
These qualifications provide progression routes to further study (see Progression).
Who does this qualification suit
The qualification is aimed at learners wishing to pursue a career working in the engineering, manufacturing and construction sectors, or wishing to upgrade and/or broaden their existing skills set. This could include:
school leavers
learners studying related subject areas such as engineering, construction and design related disciplines at NC level
adult returners to education
learners in employment who wish to enhance their career prospects
people changing direction/seeking a career change
part-time learners wishing to broaden skills and knowledge
Access
As with all SQA qualifications, entry is at the discretion of the centre. However, learners would benefit from having attained the skills, knowledge and understanding required by one or more of the following or equivalent qualifications and/or experience:
NC or HNC in a related discipline - this could include but is not limited to the NC Computer Aided Design and Technology, NC in an Engineering discipline, NC Built Environment, HNC Mechanical Engineering, HNC Manufacturing Engineering, or HNC Fabrication and Welding Engineering
at least one Higher level pass, with appropriate supporting passes at Standard Grade Credit/National 5 or equivalent in appropriate subjects - Maths, English, Product Design, Graphic Communication and/or a science subject would be desirable
SVQ in Engineering or a related discipline
Different combinations of relevant National Qualifications, vocational qualifications and equivalent qualifications from other awarding bodies may also be acceptable.
Progression and employment
Learners who achieve an HNC Computer Aided Draughting and Design can progress to the HND.
The HND Computer Aided Draughting and Design can provide progression to degree-level study.
Employment opportunities exist within the Engineering, Manufacturing and Construction sectors as CAD technicians and junior designers.
What you'll learn?
The HNC Computer Aided Draughting and Design will develop a comprehensive level of knowledge and practical skills in traditional CADD topics, as well as the more advanced features of modern software. The candidate will also develop knowledge and understanding of the design process, and of how CADD can help in achieving a desirable design solution.
The HND Computer Aided Draughting and Design is designed to meet the demands of employment in engineering, construction and design related industries. It will provide you with a range of contemporary vocational skills including the preparation, co-ordination and communication of technical information (including drawings, graphical information, reports and schedules); contributing to meeting relevant statutory regulations and controlling projects by monitoring agreed standards; and obtaining, recording and organising information.
Approval
Centres with devolved authority for approval should use their own internal approval process.
Centres without devolved authority require to come forward for approval and should contact SQA¿s Business Development Team for guidance.
Assessors and verifiers must be able to meet SQA¿s general requirements for technical/occupational competence as outlined in the Systems and Qualification Approval Guide.
How to assess
Each individual unit specification gives detailed information on the evidence requirements and approaches to assessment for each unit.
Assessment support packs are available for the mandatory units within the HNC and HND.
Where can you take this course?
Qualification Structure
HNC Computer Aided Draughting and Design
Group award code: GL57 15 (96 SCQF credit points)
HNC Computer Aided Draughting and Design at SCQF level 7 consists of seven mandatory units (64 SCQF credit points) and four optional SQA credits (32 SCQF credit points).
HND Computer Aided Draughting and Design
Group award code: GL5A 16 (240 SCQF credit points)
HND Computer Aided Draughting and Design at SCQF level 8 consists of 15 mandatory units (168 SCQF credit points) and a number of optional units (72 SCQF points).
Group award specification