HNC/HND Computer Games Development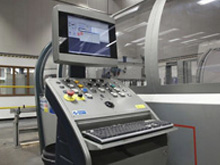 Higher National qualifications provide practical skills and theoretical knowledge that meet the needs of employers. The HNC/D Computer Games Development awards address the needs of a developing and constantly evolving games industry. The awards have been designed to provide a current and practical skill set for learners to take forward into further study or to employment at a junior or 'intern' level in the games industry.
This qualification is available through colleges, training providers and some universities. Typically, an HNC takes one year to complete.
Use the tabs below to open each section individually. Alternatively you can show allhide all the sections.
Why deliver this qualification
Higher National qualifications have been developed by SQA in partnership with colleges, universities and industry ¿ so employers recognise that they provide sound evidence of ability.
The HNC award will prepare learners for employment as a tester, level designer or intern within the computer games industry or a junior software developer role within the IT industry generally. It will develop learners' ability to work collaboratively on interactive media projects and an awareness of current professional practices and technologies relevant to the computer games industry.
In addition, the second year of the HND will enhance employability through engagement with National Occupational Standards and develop a range of specialist knowledge and skills that reflects recent, in-demand skills in multiplatform applications development. Learners will develop an awareness of entrepreneurship and the requirements for establishing a client base for independent work.
The qualification will allow centres to maintain an up-to-date qualification within the ever-changing and volatile employment market. There is a range of optional units which provides a flexible and relevant curriculum to allow diverse occupational destinations within the creative and digital industries.
The unit-based structure supports flexibility. A unit is typically 40 hours of timetabled learning.
Who does this qualification suit
The HNC and HND Computer Games Development are suitable for a wide range of learners including:
school leavers
adult returners to education
individuals in employment who wish to enhance their career prospects
Access
As with all SQA qualifications, entry is at the discretion of the centre.
For entry to the Higher National Certificate, learners would benefit from having attained the skills, knowledge and understanding required by one or more of the following or equivalent qualifications and/or experience:
passes in two relevant subjects at SCQF level 6 (Higher), one of which should be Maths, Computing, or Physics together with at least three relevant subjects at National 5, one of which must be English
relevant work experience which has involved a significant amount of coding in a high-level language
a related National Certificate at SCQF level 6 to include Mathematics units, problem solving, English and numeracy skills
a National Progression Award (NPA) at SCQF level 5 or 6 in Games Development or Digital Media together with one other subject at SCQF level 6 (Higher) and Maths and English at National 5
Progression and employment
Learners who achieve the HNC Computer Games Development will have opportunities to progress to the HND Computer Games Development. Learners who achieve the HND award will have opportunities to progress to higher education in the relevant fields.
Approval
Centres with devolved authority for approval should use their own internal approval process.
Centres without devolved authority require to come forward for approval and should contact SQA's Business Development Team for guidance.
Assessors and verifiers must be able to meet SQA's general requirements for technical/occupational competence as outlined in the Systems and Qualification Approval Guide.
How to assess
Each individual unit specification gives detailed information on the evidence requirements and approaches to assessment for each unit.
Both Computer Games Development: Graded Unit 1 and Graded Unit 2 are project based.
Ongoing course assessment will apply.
Assessment support packs will be available for the qualifications.
Where can you take this course?
Qualification Structure
HNC Computer Games Development
Group award code: GM09 15 (96 SCQF credit points)
The HNC Computer Games Development Group Award is made up of 12 SQA credits. It comprises 96 SCQF credit points, of which:
8 credits (64 SCQF credit points) are mandatory units
at least 1 credit (8 SCQF credit points) is selected from Content Selection
any remaining credits from the optional units
HND Computer Games Development
Group award code: GM0A 16 (240 SCQF credit points)
The HND Computer Games Development Group Award is made up of 30 SQA credits. It comprises 240 SCQF credit points, of which:
16 credits (128 SCQF credit points) are from the mandatory units section
at least 1 credit (8 SCQF credit points) is selected from Content Selection
at least 2 credits (16 SCQF credit points) are selected from Systems Selection
at least 2 credits (16 SCQF credit points) from Mathematics Selection (maximum of 4 credits)
any remaining credits from the optional units
Group Award Specification
Qualification Verification Summary Reports