HNC Computing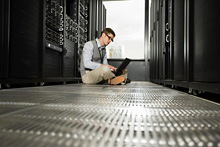 The HNC Computing award is designed to offer candidates academic and technician training leading to the skills necessary to design, implement and support IT systems in a vast range of industries.
The candidates will develop a range of contemporary vocational skills (eg technical computing skills) relating to the use and support of IT systems.
The award provides a flexible curriculum to meet the needs of candidates in employment, recognising their existing experience and skills and will prepare students for progression to further study in Computing or a related discipline.
Resources
This group Award has been replaced by GF3E 15 and will finish on 31/07/2015.
Centres should note that when a Group Award is entered into its lapsing period, the following will apply:
the Group Award will be deleted from the relevant catalogue
the Group Award Arrangement document will remain until the qualification reaches its finish date at which point it will be removed form SQA website and archived
no new centres may be approved to offer the Group Award
centres should only enter candidates whom they expect to complete the Group Award during the defined lapsing period of 3 years
Title: HNC Computing
Code: G7GL 15
Date: Version 09 (May 2013)
Download: HNC Computing Arrangements Document (677 KB)
Where can you take this course?
Where can you take this course?
Student resources
This group Award has been replaced by GF3E 15 and will finish on 31/07/2015.
Centres should note that when a Group Award is entered into its lapsing period, the following will apply:
the Group Award will be deleted from the relevant catalogue
the Group Award Arrangement document will remain until the qualification reaches its finish date at which point it will be removed form SQA website and archived
no new centres may be approved to offer the Group Award
centres should only enter candidates whom they expect to complete the Group Award during the defined lapsing period of 3 years
Title: HNC Computing
Code: G7GL 15
Date: Version 09 (May 2013)
Download: HNC Computing Arrangements Document (677 KB)