HNC Pharmacy Services Development and Management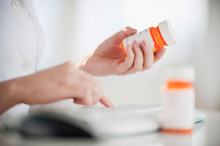 The HNC in Pharmacy Services Development and Management at SCQF level 7 has been designed to develop management skills of pharmacy technicians within the delivery of pharmacy services. The qualification aims to develop and improve skills in communication, management of others, management of projects, problem solving and self management. This qualification has been designed to help practising pharmacy technicians progress into managerial roles.
This qualification is available through colleges.
Use the tabs below to open each section individually. Alternatively you can show allhide all the sections.
Alternative assessment guidance
This subject will not have alternative assessment guidance for session 2023-24. You should refer to the Group Award/Unit specifications for detailed delivery and assessment information. For general support on delivery and assessment see the HNVQ assessment guidance 2023-24.
Why deliver this qualification
The HNC in Pharmacy Services Development and Management is vocational and will develop the skills and knowledge of employed pharmacy technicians. The qualification can be fitted around work commitments and will enhance career and employment prospects for candidates. The market for this qualification extends across all pharmacies in Scotland.
Who does this qualification suit
The HNC in Pharmacy Services Development and Management is designed for those pharmacy technicians in employment wishing to improve their career opportunities. The majority of candidates are employed in hospital pharmacy (secondary care), but the identified changes to the HNC should attract pharmacy technicians from community pharmacy (primary care) to support the evolving roles of the community pharmacist.
Access
Access to the qualification is at the discretion of the centre, and the following recommendations are for guidance only. Some of the appropriate formal entry requirements are specified below. They are not exhaustive or mutually exclusive:
SQA National Certificate in Pharmacy Services (or equivalent)
SVQ Pharmacy Services level 3
a minimum of two years experience of employment as a qualified pharmacy technician or be currently in employment within a pharmacy or have access to a pharmacy
Other qualifications may be accepted for entry, and centres will have alternative access arrangements if you have the required competences. These arrangements are referred to as: Assessment on demand; Credit Transfer; and Accreditation of Prior Learning (APL, or APEL).
Progression and employment
There is no direct progression to higher education as this HNC is a vocational qualification designed to support the extended roles of pharmacy technicians and is not solely pharmacy specific. Candidates who complete the HNC in Pharmacy Services Development and Management could progress towards management vocational qualifications or use their HNC as an entry requirement for an appropriate degree course.
What you'll learn?
The HNC Pharmacy Services Development and Management qualification has been designed in a generic way to help practising pharmacy technicians progress into managerial roles.
You will learn about: how to carry out an audit; how to identify gaps in the service and develop a plan to implement change; project activity; personal effectiveness; developing the individual within a team; working with people and teams; and applying knowledge of pharmacology to clinical situations.
You will also develop your planning, analysis, synthesis, evaluative, interpersonal skills, study and research skills.
Approval
Centres with devolved authority are eligible to seek approval through their own internal approval process.
Centres without devolved authority will have to come forward for approval and should contact the Business Development Team for guidance in completing the combined CA1/SA1 form.
Assessors and verifiers must be able to meet SQA's general requirements as outlined in the guide to approval.
How to assess
A more holistic approach to assessment has been adopted in this HNC. The HN Unit specification places the emphasis on reducing assessment load for candidates and centres by devising assessments which assess the entire theory content of the Unit where appropriate, and by sampling of knowledge and/or skills carried out under closed-book conditions.
Where can you take this course?
Qualification Structure
HNC Pharmacy Services Development and Management
Group Award code: G801 15 (96 SCQF credit points)
HNC Pharmacy Services Development and Management at SCQF level 7 consists of 12 mandatory Units (96 SCQF credit points)
Group Award Specification
Qualifications Support Team (QST) - Action Grids