HNC Building Services Engineering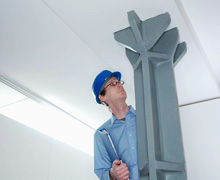 The new HN qualification in Building Services Engineering is designed to prepare candidates for a range of technical, professional and management careers in Building Services Engineering.
It provides specialised studies, which build upon previous study and experience, and are directly relevant to the individual vocations and professions in which candidates are currently working, or in which they intend to seek employment.
The Building Services Engineering sector includes the design and installation of heating, ventilating, air conditioning, refrigeration, plumbing and electrical services, for domestic, commercial and industrial buildings.
Peripheral industries, often involved in Building Services Engineering contracts, include communication, data and security systems.
Use the tabs below to open each section individually. Alternatively you can show allhide all the sections.
Where can you take this course?
Qualification content and delivery tools
Current
Group Award Specification
Lapsing
This Group Award has been replaced by GD2H 15 with G7WE 15 finishing 31/07/2014.
Centres should note that when a Group Award is entered into its lapsing period, the following will apply:
the Group Award will be deleted from the relevant catalogue
the Group Award Arrangement document will remain until the qualification reaches its finish date at which point it will be removed form SQA website and archived
no new centres may be approved to offer the Group Award
centres should only enter candidates whom they expect to complete the Group Award during the defined lapsing period of 3 years for HNC and 4 years for HND.
Group Award Specification
Related links