Diploma Management and Leadership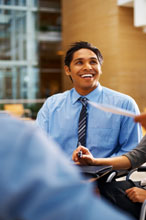 The Diploma in Management and Leadership is a recognised qualification that is understood and respected by employers across many industry sectors. It develops a range of more senior operational management competences required by employers of those engaged in, or aspiring to, more senior management positions.
It builds on the HNC in Management and Leadership and contains both theoretical and practical units. The theoretical units underpin the knowledge required to gain employment and allow progression to further academic and/or professional qualifications.
The Diploma in Management and Leadership (SCQF level 8) provides suitable competences for future career and personal development in middle/senior management duties including: using strategic management and leadership skills for longer-term direction of an organisation across a range of management functions; planning and implementing strategic change; management research; project management; and organisational risks.
This qualification is available through colleges and typically takes two years to complete.
This award is jointly certificated by SQA and the Chartered Management Institute (CMI).
Use the tabs below to open each section individually. Alternatively you can show allhide all the sections.
Why deliver this qualification
Higher National qualifications have been developed by SQA in partnership with colleges, universities and industry — so employers recognise that they provide sound evidence of ability.
The unit-based structure supports flexibility. A unit is typically 40 hours of timetabled learning.
There is a wide choice of optional units which will enable centres to offer courses tailored to meet local needs.
These HNs provide progression routes to further study (see Progression). 
Who does this qualification suit
The Diploma in Management and Leadership is suitable for a wide range of candidates including:
adult returners to education
candidates employed in management positions who wish to enhance their career prospects
candidates who are aspirant managers and wish to move into a middle/senior management position
experienced managers seeking a nationally/internationally recognised qualification
Access
As with all SQA qualifications, entry is at the discretion of the centre.
The Diploma in Management and Leadership is designed for candidates who want to enter into middle/senior management positions in a wide range of organisations.
Examples of formal entry qualifications could include:
any relevant Scottish Group Award at SCQF level 5 or 6
any two National Qualifications at SCQF level 6 together with three passes at SCQF level 5 or above
an SVQ at SCQF level 7 in a relevant area
relevant work experience
For candidates where English is not their first language it is recommended that they possess English for Speakers of other Languages (ESOL) level 5 or a score of 5.5 in International English Language Testing System (IELTS).
In addition, candidates should possess good communication and analytical skills, along with a desire to attain the professional and personal attributes of a middle/senior manager.
Different combinations of relevant National Qualifications, vocational qualifications and equivalent qualifications from other awarding bodies, and work experience, may also be acceptable.
Progression
The Diploma in Management and Leadership allows direct entry to third year programmes such as a BA in Business and Enterprise.
Higher National qualifications also provide the knowledge and understanding required for related Scottish Vocational Qualifications (SVQs). For example, SVQ 4 in Management at SCQF level 9.
Learners can also progress to employment in job roles such as:
project manager
financial manager
a range of middle management roles
a range of strategic, more senior management roles
Approval
Centres with devolved authority for approval should use their own internal approval process.
Centres without devolved authority require to come forward for approval and should contact SQA's Business Development Team for guidance.
Assessors and verifiers must be able to meet SQA's general requirements for technical/occupational competence as outlined in the Systems and Qualification Approval Guide.
How to assess
Each individual unit specification gives detailed information on the evidence requirements and approaches to assessment for each unit.
Ongoing course assessment will apply.
Assessment support packs and candidate support packs are available on SQA's secure site for this qualification. The attached list outlines current support materials (10 KB) available.
Where can you take this course?
Qualification Structure
Diploma Management and Leadership - Qualification Structure (14 KB)
Group award code: GF6G 48 (18 SQA credits/144 SCQF credit points)
Diploma in Management and Leadership at SCQF level 8 consists of 13 mandatory credits (104 SCQF credit points) and a number of optional units (40 SCQF points).
Group Award Specification
Support Materials for Candidates
There are a range of candidate support packs and interactive activities available which can assist candidates. You can click on the link for the interactive activities, the support packs can be obtained from your tutor.
Internal Assessment Reports