PDA Office Management and Information Technology SCQF level 8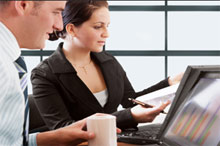 The Professional Development Award (PDA) in Office Management and Information Technology at SCQF level 8 delivers the essential skills and knowledge for a range of senior administrative roles. This makes it suitable CPD for those working in an administrative role, or for anyone seeking to enter employment in this area.
This qualification is available through colleges.
Use the tabs below to open each section individually. Alternatively you can show allhide all the sections.
Alternative assessment guidance
This subject will not have alternative assessment guidance for session 2023-24. You should refer to the Group Award/Unit specifications for detailed delivery and assessment information. For general support on delivery and assessment see the HNVQ assessment guidance 2023-24.
Why deliver this qualification
The PDA in Office Management and Information Technology has Evidence Requirements that focus on the knowledge/skills that candidates should perform/use and the assessment methods are not prescribed. This means that there is much more flexibility in when and how the evidence is gathered.
Who does this qualification suit
This PDA in Office Management and Information Technology provides a manageable qualification for full and part-time candidates. The Units within the PDA are also included within the HND Administration and Information Technology, providing centres with the option of combining classes, and gives candidates the option of progressing to the HND, having already gained credits towards achievement of the HND.
Access
Access is at the discretion of the centre and the following qualifications and experience are for guidance only.
HNC Administration and Information Technology
HNC Business
Higher Administration or Business Management and English
SVQ in Business and Administration at level 3
NC in Business at SCQF level 5
relevant work experience
Progression
There are progression opportunities to the HND in Administration and Information Technology and to the HND in Business.
Approval
Centres with devolved authority are eligible to seek approval through their own internal approval process.
31655 31663 33125 33198 33203 35053
Assessors and verifiers must be able to meet SQA's general requirements as outlined in the guide to approval.
How to assess
The Evidence Requirements within each Unit state clearly what evidence is required to meet the standard and the assessment instrument is not prescribed. This means that there is much more flexibility in when and how the evidence is gathered. Rather than delivering and assessing Units as individual components and thereby increasing the possibility of assessing similar evidence on more than one occasion, it is possible to gather evidence to meet the requirements of more than one Unit in a single assessment event, which is referred to as integration of assessment.
There is no single approach to delivery and assessment. Centres may use a range of teaching and learning approaches including self-study, workshops, lectures, case studies and group tasks.
Where can you take this course?
Qualification Structure
Group Award code: GA10 48 (64 SCQF credit points)
SCQF level: 8
The PDA Office Management and IT consists of the following six mandatory Units:
IT in Business: Advanced Word Processing — F84A 35
IT in Business: Advanced Spreadsheets — F849 35
IT in Business — Advanced Databases — F848 35
Information and Communication Technology in Business — F84W 35
Office Management — F84D 35
Developing the Individual within a Team — F870 34 (SCQF 7) or F86Y 35 (SCQF 8)
Group Award Specification
Subject-Specific Information