HNC/HND Musical Theatre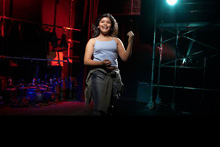 The HNC and HND in Musical Theatre will build on your previous experience of Theatre Arts and Performance.
Use the tabs below to open each section individually. Alternatively you can show allhide all the sections.
Alternative assessment guidance
This subject will not have alternative assessment guidance for session 2023-24. You should refer to the Group Award/Unit specifications for detailed delivery and assessment information. For general support on delivery and assessment see the HNVQ assessment guidance 2023-24.
Who does this qualification suit
As with all SQA qualifications, entry is at the discretion of the centre. You will be invited to a formal audition, in which you will offer prepared speeches/monologues, songs, participation in a dance workshop or evidence of relevant experience.
Examples of formal entry qualifications include:
Relevant Units from an appropriate NQ programme (Higher Drama or Higher Music would be preferable)
Relevant industrial experience
Progression and employment
There are employment opportunities in the Musical Theatre and Performing Arts Industry (West End, cruise lines, summer season, pantomime, television, theatre & cabaret). On completing the HNC, you should be able to audition for further training at drama school or university. Opportunities now exist in Scotland to complete a BA Honours in Musical Theatre. It is possible to enter the third year if you have successfully completed the HND Musical Theatre.
What you'll learn?
The HNC and HND in Musical Theatre will build on your previous experience of Theatre Arts and Performance. You might have gained experience through a lower-level course, or developed your interest in youth theatre or amateur dramatics, or you might show potential as a performer.
The course will allow you to develop:
skills in singing, acting, voice and dance
the ability to integrate these skills in performance
an innovative and creative approach to work in rehearsal and performance
an understanding of theatre practice
audition skills either for employment or for places at higher education establishments
co-operative team working skills
Adaptability
an understanding of theatre practice
the ability to respond to direction
You will also be able to develop your communication and interpersonal skills, your skills as a performer, self-presentation skills, self-evaluation skills to enable professional development, analytical skills, the ability to work independently, the confidence to perform to potential, and professional attitudes.
Where can you take this course?
Group Award Specification