HNC/HND Musical Theatre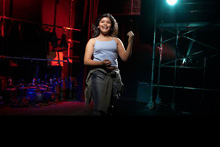 The HNC and HND in Musical Theatre will build on your previous experience of Theatre Arts and Performance.
Use the tabs below to open each section individually. Alternatively you can show allhide all the sections.
Candidate Information
HNC/D Musical Theatre
You might have gained experience through a lower-level course, or developed your interest in youth theatre or amateur dramatics, or you might show potential as a performer...Find out more
Where can you take this course?
Group Award Specification
Internal Assessment Reports
Update Letters
Qualifications Development Team
We will be hosting a meeting of practitioners to discuss the HNC/HND Acting and Performance, and the HNC/HND Musical Theatre Group Awards.
We are seeking practitioners who currently deliver either or both of these group awards, and are keen to establish a Qualifications Development Team on Monday 19 February 2018 in Glasgow.
The purpose of the meeting is to gather intelligence from centres that deliver the awards, and assess the potential for future development and change. Practitioners are invited to attend — your input to this meeting would be highly valued.
For further information please contact Marion Weir, Qualifications Officer for Dance and Drama at marion.weir@sqa.org.uk