PDA Information Technology in Business SCQF level 7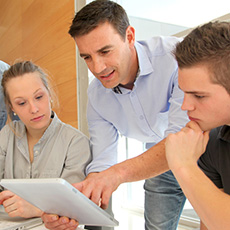 The Professional Development Award (PDA) in Information Technology in Business at SCQF level 7 delivers the skills and knowledge needed for a range of administrative roles. It has particular emphasis on the use of IT within a business environment.
This qualification is available in colleges.
Use the tabs below to open each section individually. Alternatively you can show allhide all the sections.
Alternative assessment guidance
This subject will not have alternative assessment guidance for session 2023-24. You should refer to the Group Award/Unit specifications for detailed delivery and assessment information. For general support on delivery and assessment see the HNVQ assessment guidance 2023-24.
Why deliver this qualification
The PDA in Information Technology in Business is a short, 'bite-sized' qualification that is more accessible to candidates in terms of time, cost and assessment.
It is especially suitable as a continuing professional development (CPD) qualification for those wishing to improve their professional practice.
Who does this qualification suit
The PDA in Information Technology in Business at SCQF level 7 is suitable for a wide range of candidates including:
candidates employed within an administration role who wish to enhance their career prospects
candidates in employment seeking a vehicle for continuing professional development
adult returners to education
candidates undertaking the HNC Administration and Information Technology
Access
Access to the PDA is at the discretion of the centre. In general, entry should be open to any candidate who can demonstrate a reasonable expectation of successfully completing the award. It would be beneficial for candidates to be competent in communication and IT skills to SCQF level 5.
The following are examples of formal qualifications which could be recommended as suitable entry criteria:
Communication Core Skill at SCQF level 5 or equivalent
experience of working in an administration environment
IT skills at SCQF level 5
SVQ Business and Administration level 2
Progression
Candidates may carry forward credit towards the HNC/D Administration and Information Technology or HNC/D Business.
Alternatively, candidates may progress to the PDA in Office Management and Information Technology at SCQF level 8.
Approval
Centres with devolved authority are eligible to seek approval through their own internal approval process.
Centres without devolved authority will have to come forward for approval and should contact the Business Development Team for guidance in completing the combined CA1/SA1 form.
Assessors and verifiers must be able to meet SQA's general requirements as outlined in the guide to approval.
How to assess
The Evidence Requirements within each Unit state clearly what evidence is required to meet the standard. Assessment instruments are not prescribed and may take the form of case studies and/or practical assignments.
Where can you take this course?
Group Award Specification
Unit(s) and delivery tools
Group Award code: G8XL 47 (32 SCQF credit points)
SCQF level: 7
Structure
The PDA in Information Technology at SCQF level 7 comprises:
IT in Business — Word Processing and Presentation Applications (HH84 34)
IT in Business — Databases (F84X 34)
IT in Business — Spreadsheets (HH83 34)
All Units are mandatory for the purpose of achieving the PDA Group Award.
Subject-specific information