HNC/HND Professional Golf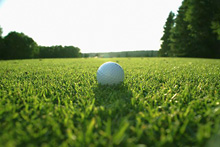 The aim of the HNC and HND Professional Golf provides candidates with the skills and qualities required to work in the golf industry — in the sports science, coaching, and management or equipment technology fields. Candidates may ultimately be seeking a playing (performance) career in golf, but graduates could also embark on a career in coaching.
Use the tabs below to open each section individually. Alternatively you can show allhide all the sections.
Who does this qualification suit
Entry
Your academic suitability will be assessed by the level of qualifications you hold. Two Highers at 'C' or above are the usual requirements. Alternatively, you might have a National Certificate or Vocational Qualification in a relevant discipline. Mature candidates will be assessed on an individual basis. The handicap level for entry is a maximum of 5.4 (category 1) to reflect the title of the qualification, 'Professional Golf'.
Progression and employment
Once you have achieved the HNC there are opportunities in support/assistant roles in golf coaching, retail, sport/activity co-ordination, and in the hospitality sector specialising in golf tourism.
Examples of the roles you might be suited to include:Assistant to Golf Professional, Golf Shop Assistant, Driving Range Assistant/Supervisor, School Sports/Activity Co-ordinator Assistant.
If you wish to progress to HND level, you can do so upon successful completion of the HNC Professional Golf along with maintaining a handicap of a maximum of 5.4.
It may also be possible to progress to a Degree programme. You would be assessed on an individual basis.
With the HNC, you will have developed the coaching skills and competences to the standard expected at UKCC Level 1, and the experience and knowledge to progress to UKCC Level 2.
Approval
Specific subject expertise is required to deliver this qualification which is detailed in the Group Award Specification (Arrangements Document). To gain approval for this qualification centres should complete and submit a Qualification Approval Application Form. The Business Development Team can provide guidance in completing this form.
Assessors and verifiers must be able to meet SQA's general requirements as outlined in the guide to approval.
Where can you take this course?
Group Award Specification