HNC Fish Farming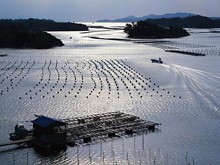 The HNC Fish Farming provides candidates with the opportunity to develop practical skills in fish farming, complemented by knowledge of fish production methods and technology, improving their employment prospects and helping them to develop as a fish farm site supervisor.
Candidates will gain: practical fish production management skills; a knowledge of fish science, fish health and water resources, with regard to their application to modern fish farming practices; the ability to evaluate information relating to the aquatic environment, fish stocks and fish production operations; and an understanding of the management of health and safety on a commercial fish farm.
Use the tabs below to open each section individually. Alternatively you can show allhide all the sections.
Candidate Information
The HNC Fish Farming will provide you with the opportunity to develop practical skills in fish farming, complemented by knowledge of fish production methods and technology, improving your employment prospects and helping you to develop as a fish farm site supervisor...Find out more
Group Award Specification