NC Hospitality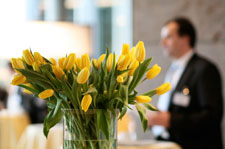 Welcome to the subject homepage for National Certificates (NCs) in Hospitality.
The National Certificate (NC) in Hospitality is available at SCQF level 5 and helps to prepare candidates for further education or employment in a range of occupational areas within the hospitality industry.
The NC in Hospitality at SCQF level 5 is designed to equip candidates with the skills required to work in the hospitality industry. It will allow candidates to develop organisational skills as well as skills in working front of house and in food preparation and cooking. Candidates will also gain an awareness of working safely and the importance of customer care in the hospitality industry.
These NCs are normally delivered in colleges.
Use the tabs below to open each section individually. Alternatively you can show allhide all the sections.
Why deliver this qualification
The NC in Hospitality allows for flexible delivery. It can be offered full-time, part-time, through open or distance learning, or through evening classes.
This qualification provides a strong foundation for anyone wishing to pursue a career in the hospitality and tourism industry. It offers an insight into the different industry job roles and allows a good degree of practical application.
Achievement of this qualification is nationally recognised and certificated.
Who does this qualification suit
This qualification is aimed at anyone interested in learning basic skills in hospitality and would suit a wide range of candidates, including:
school leavers
adult returners
migrants to the UK
candidates whose first language is not English
Access
Entry is at the discretion of the centre.
For the level 5 NC, it would be beneficial for candidates to have Standard Grades at General level, National 4 qualifications or equivalent
Progression
This NC offers candidates the opportunity to progress into further education or employment.
Candidates could progress to SVQs within the Hospitality sector. Candidates could also progress to HNC/HND qualifications in Hospitality or Professional Cookery.
This NC could lead to employment in the following roles: commis chef, waiter, housekeeper or front office assistant.
Approval
Centres with devolved authority for approval should use their own internal approval process.
Centres without devolved authority will have to come forward for approval and should contact SQA's Business Development Team for guidance.
Assessors and verifiers must be able to meet SQA's general requirements for technical/occupational competence as outlined in the Guide to Approval.
How to assess
The NC Hospitality units are suited to practical methods of delivery and assessment. Ongoing internal course assessment will apply.
There are opportunities to combine the delivery and assessment of various Units. For example, Food Preparation Techniques, Cookery Processes and Organisation of Practical Skills work well together. Assessment Support Packs (ASPs) identify specific opportunities for integration with other Units.
Assessment Support Packs (ASPs) for this qualification can be accessed from SQA's secure website. ASPs are available for three of the units within the NC. 
NABs are available for all units. These can be downloaded from SQA's secure website.
Where can you take this course?
Qualification content and delivery tools
Qualification structure
NC in Hospitality at SCQF level 5
The National Certificate in Hospitality consists of eight mandatory units (42 SCQF credit points) and five optional units (30 SCQF credit points) from a choice of 32 at SCQF levels 5 and 6.
Group Award Code: G9FL 45 (72 SCQF credit points) at SCQF level 5.
NABs/ASPs are available for all units. These can be downloaded from SQA's secure website.
Group Award Specification - NC in Hospitality at SCQF level 5
Course Overview and Skills Development Summary - NC Hospitality at SCQF level 5 (754 KB)
Qualification Verification Summary Reports
Offer this qualification