NPA Supply Chain Operations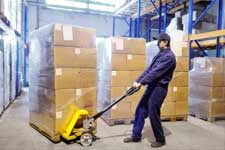 This National Progression Award (NPA) in Supply Chain Operations at SCQF level 5 enables candidates to develop knowledge and understanding of what a supply chain is, how one operates, and the roles and responsibilities of individuals involved. It also develops employability skills for the logistics sector. This qualification is available through schools, colleges and private training providers.
E-Assessments
Formative assessments have been developed for all Units of this NPA and are available from SOLAR.
Use the tabs below to open each section individually. Alternatively you can show allhide all the sections.
Why deliver this qualification
The NPA in Supply Chain Operations can be delivered on a full or part-time basis and offers opportunities to centres for partnership delivery.
The NPA can also be delivered through e-learning or other distance learning methods, however candidates are likely to benefit most from taking the NPA in groups and through face-to-face experiential learning.
The NPA is nationally certificated and mapped to the National Occupational Standards (NOS). It offers the knowledge and understanding required by industry and opens up the possibility of continued study.
Individual Units can be delivered as Continuing Professional Development (CPD) for employees or used in the Driver Certificate of Professional Competence training.
Who does this qualification suit
The NPA in Supply Chain Operations may be suitable for:
S3 and S4 school pupils following a vocational education programme
S5 and S6 school pupils taking the qualification as a broadening of the curriculum
employees within the logistics sector, such as warehouse operatives or security staff, who wish to develop competence in certain areas
LGV drivers requiring training through the Driver Certificate of Professional Competence
trainees on national programmes such as 'Get Ready for Work' or 'Training for Work
Access
Entry is at the discretion of the centre. However, it would be beneficial for candidates to have the following Core Skills at SCQF level 3: 
Communication
Numeracy
ICT
Problem Solving
Progression
The NPA in Supply Chain Operations provides a suitable progression route to SVQs or a Skills for Logistics Modern Apprenticeship in Driving Goods Vehicles; Warehousing and Storage; Traffic Office; Supply Chain Management; and International Trade and Logistics Operations.
It also provides progression to higher level logistics qualifications at college or university including the HNC/HND in Supply Chain Management. Undergraduate and postgraduate logistics-related courses are available at several universities.
The NPA could open up employment opportunities in the sector, perhaps in roles such as: assistant buyer, freight forwarding assistant, logistics operative, materials handler, procurement assistant or warehouse assistant.
Approval
Centres with devolved authority are eligible to seek approval through their own internal approval process.
Centres without devolved authority will have to come forward for approval and should contact the Business Development Team for guidance in completing the combined CA1/SA1 form.
Assessors and verifiers must be able to meet SQA's general requirements as outlined in the guide to approval.
How to assess
Assessment for this NPA may be through real-work scenarios or case studies.
Assessment Support Packs (ASPs) are available to download from SQA's secure website for the following Units:
How a Supply Chain Works — F4SX 11
Customers and Suppliers in a Supply Chain — F4SY 11
Flow of Orders in the Supply Chain — F4T0 12
Distribution and Storage of Goods — F4T1 11
Transportation of Goods — F4T2 11
Safety, Security and Sustainability in the Supply Chain — F4T3 11
The TranSETT (Transforming Scottish Education Through Technology) project provides e-assessment questions and web-based learning and teaching packs to support this NPA.
Where can you take this course?
Qualification content and delivery tools
Qualification structure
Group Award code: G93X 45 (24 SCQF credit points)
Successful candidates must achieve both mandatory Units and a further two Units from the optional section.
Assessment Support Packs
Offer this qualification