PDA Organisational Leadership SCQF level 9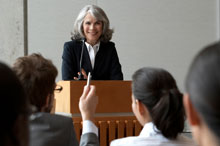 Effective leadership is crucial to organisations if they wish to achieve their current and longer-term objectives. The Professional Development Award (PDA) in Organisational Leadership at SCQF level 9 addresses this development need through topics such as approaches to leadership, leadership and organisational vision, leadership skills, and developing leaders.
The qualification is available through colleges and is jointly certificated by SQA and the Chartered Management Institute (CMI).
Use the tabs below to open each section individually. Alternatively you can show allhide all the sections.
Why deliver this qualification
The qualification is:
nationally recognised
suitable for managers in all business and industry sectors
vehicle for candidates to progress to other management qualifications
suitable for work-based achievement
The two Units in this award overlap and it may well be possible to integrate delivery.
Who does this qualification suit
The PDA in Organisational Leadership is intended for departmental managers or people who are in senior management roles or those aspiring to these positions.
Access
Access to this award will be at the discretion of the centre. There should be no barriers to entry and the award should be open to all candidates who have a reasonable chance of achieving it.
It would, however, be beneficial if candidates had good written and oral communications skills. This PDA is at SCQF level 9 and, for this reason, it is unlikely that candidates who do not have some experience of working in a management capacity will benefit from the award.
Progression
The PDA in Organisational Leadership at SCQF level 9 will offer progression to the HNC/Diploma in Management or SVQs in Management up to SVQ 5.
Approval
Centres with devolved authority for approval should use their own internal approval process.
Centres without devolved authority require to come forward for approval and should contact SQA's Business Development Team for guidance.
Assessors and verifiers must be able to meet SQA's general requirements for technical/occupational competence as outlined in the Systems and Qualification Approval Guide.
How to assess
Assessment consists of a closed-book holistic assessment lasting 2½ hours for the Organisational Leadership and Development Unit and a report for the Leadership for Managers Unit.
Where can you take this course?
Arrangements Documents
Information sheet(s)