PDA Dental Nursing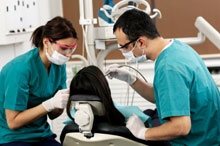 The Professional Development Award (PDA) in Dental Nursing at SCQF level 7 will enable those working as dental nurses or trainee dental nurses, to develop the knowledge and skills which underpin the SVQ 3 in Dental Nursing. Successful completion of this PDA in conjunction with an appropriate practice-based qualification (such as the SVQ 3 in Dental Nursing) meets the requirements for a Dental Care Professional (DCP) and will allow candidates to apply for registration with the General Dental Council.
The qualification is available through colleges.
Why study this qualification
The PDA in Dental Nursing is aimed at trainee dental nurses working within general dental practice surgeries, hospitals or in the community. Candidates are likely to be seeking registration with the GDC, looking to improve on their professional practice, keeping up-to-date with oral health practice developments, and developing best practice within their own working environment.
Access
There are no pre-entry qualifications for this award although it is likely that candidates will be undertaking the SVQ in Dental Nursing concurrently. Entry will be at the discretion of the centre. However, due to the nature of the award, candidates should be in employment within an oral health care environment or have access to a suitable placement which will allow them to achieve the required competencies. In addition, it would beneficial if candidates have an adequate level of Communication and/or a science or numeracy subject which could be evidenced by achievement of, for example, Communication, English or equivalent at SCQF level 5 or above and Maths, Numeracy or a science-based course at SCQF level 4 or above (or equivalent).
Employment and progression
There is direct articulation and progression to other awards in the SQA framework as follows:
SVQ Level 3 Dental Nursing
PDA Oral Health Care: Dental Administrators at SCQF level 6
PDA Oral Health Care: Dental Managers at SCQF level 8
PDA Facilitating Learning, Training and Assessment in the Workplace at SCQF level 8
Where can you take this course?