PDA Organisational Ethics and Decision Making SCQF level 11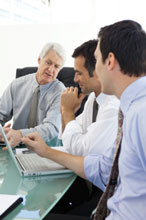 The Professional Development Award (PDA) in Organisational Ethics and Decision Making at SCQF level 11 has been developed with the Scottish Police College, the University of Stirling and SQA to develop a Masters level programme aimed specifically at those practising in, or aspiring to strategic management roles within the public sector.
The PDA is a qualification in its own right and can be delivered as a free-standing award. However, it can also be integrated with other qualifications. For example, it plays a role within the MSc in Professional Enquiry: Strategic Leadership which was the broader overall outcome of the collaborative development between the Scottish Police College, the University of Stirling and SQA.
This qualification is available through colleges and is jointly certificated by SQA and the Chartered Management Institute (CMI).
Use the tabs below to open each section individually. Alternatively you can show allhide all the sections.
Why deliver this qualification
Candidates undertaking the PDA in Organisational Ethics and Decision Making will work autonomously and take significant responsibility for their own learning. This is a strategic management award and candidates will be required to undertake a detailed and analytical investigation into, and critique of, relevant theory and research within the field of study.
Each Unit has been designed in such a way that they can be delivered separately, however it is recommended that, as the two fields of study are so closely related, they are delivered on an integrated basis, with both Units delivered simultaneously.
Some features of the PDA are:
it is nationally recognised
it focuses on organisational ethics and decision making
it develops critical thinkingi
it develops skills to critically analyse and influence professional practice in relation to both organisational decision making and ethics
Who does this qualification suit
The principal target group for the PDA in Organisational Ethics and Decision Making is existing and aspiring strategic managers operating within the public sector. The target group also extends to existing and strategic managers in other organisations who may need to develop high level decision making skills within an ethical framework, particularly where this involves partnership and collaboration with other organisations
Progression
Successful candidates will gain 32 SCQF credit points at SCQF level 11. This could subsequently allow candidates the opportunity for further professional development at level 11.
Successful completion of the PDA will allow candidates the opportunity to progress onto the University of Stirling modules in Professional Enquiry and the dissertation. This assumes completion of the two preceding modules in the MSc, Strategic Leadership and Multi-Professional Working and Learning.
Approval
Centres with devolved authority for approval should use their own internal approval process.
Centres without devolved authority require to come forward for approval and should contact SQA's Business Development Team for guidance.
Assessors and verifiers must be able to meet SQA's general requirements for technical/occupational competence as outlined in the Systems and Qualification Approval Guide.
How to assess
With an emphasis on self-directed learning, it is recommended that the delivery of both Units in the PDA Organisational Ethics and Decision Making consists of provision of guidance and support to allow students to organise their own structure to the learning process, based on individual preferences.
Candidates can be provided with some background on current theories, models and concepts within organisational ethics and decision making. This will set the scene especially for those who may have limited previous exposure to these ideas. However, in order to meet the requirements of SCQF level 11, candidates will need to explore recent developments and are likely, therefore, to benefit from guidance towards suitable texts, current journal articles and other sources of reference.
Both Units recommend that assessment evidence be presented in the form of a report. It is possible to ask candidates for two separate reports, one for each Unit. However, if the suggested approach to holistic delivery is adopted, it may be more appropriate to combine the assessments into a single report consisting of approximately 7,000 words. Reports should be presented in a suitable format.
Where can you take this course?
Arrangements Documents
Assessment Strategy
Unit(s) and delivery tools
Group Award code: G9M9 51 (32 SCQF credit points)
SCQF level: 11
Structure
The PDA in Organisational Ethics and Decision Making at SCQF level 11 consists of two mandatory Units:
Organisational Ethics — F8K9 38
Organisational Decision Making — F8KA 38