HNC Contemporary Dance Performance candidate information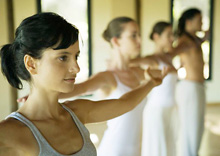 The HNC Contemporary Dance Performance will allow you to:
undertake a highly practical and intensive training of which the core will focus on classical ballet and at least one contemporary dance technique
improve and extend your technical ability, performance skills and experience through performance opportunities
develop skills in the creative processes of choreography
develop skills that allow you to progress to further training
develop skills in contemporary dance performance that are relevant to the needs of the industry
The HNC will also enable you to gain analytical, evaluative and problem solving skills, investigation and research skills and innovative approaches to work.
Employment and progression opportunities
On achieving the HNC you could expect to gain employment in the contemporary dance industry.
You may progress to a further HND year at Scottish School of Contemporary Dance (SSCD) or other institution.
Entry
As with all SQA qualifications, entry is at the discretion of the centre, but examples of formal entry qualifications include:
a relevant SQA National Qualification programme including technique-based Units and compositional/choreographic Units at a minimum of SCQF level 6, or equivalent qualifications
previous dance experience, which must include ballet
The Royal Academy of Dancing Syllabus: Intermediate
The Imperial Society of Teachers of Dancing Syllabus: Intermediate
other appropriate examining board of dance training
classes at private dance school or dance teacher or other institution, achieving standards equivalent to those listed above
A prospective centre might wish confirm your practical skills and potential through an audition and interview, as formal academic achievements in themselves may not be sufficient to establish this.