HNC Media Analysis and Production candidate information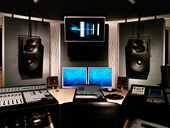 The HNC Media Analysis and Production is a broad-based qualification that encourages you to develop production and theory skills, getting you ready for employment in the media and related industries. The title of the HNC highlights the balance of knowledge and skills you will gain, and the importance of the theory, research, planning and evaluation used in every media production whether in education or industry.
The HNC aims to give you technical skills in video production to an advanced level, technical skills in photography, knowledge in the area of film theory, and skills in the analysis of representations and ideology.
You will develop your analysis, reflective, critical think, investigative and research skills.
Employment and progression opportunities
Employment opportunities are available in video production, television and publishing or related areas such as marketing. You could be working as: Production Assistant, Video Production Assistant, Editorial Support, or Marketing Assistant.
The HNC is an acceptable entry qualification for many higher education courses, and you may be able progress to the 1st or 2nd year of a degree course.
Ask your centre for more information about this.
Entry
As with all SQA qualifications, entry is at the discretion of the centre. You will be invited for a formal interview, and will need to show evidence (qualifications and/or samples of work) that you possess the skills required to have a realistic chance of achieving the HNC. Examples of formal entry qualifications include:
one Higher at grade C or above with appropriate communication and analytical skills (eg Media Studies, English) and four National Units at SCQF level 5 or above (eg Standard Grades at Credit level or National Courses at Intermediate 2 at grade 'C' or above)
a programme of National Units in Media at SCQF level 5 or 6
an equivalent qualification from other awarding bodies, providing the competences can be identified and are appropriate
If you do not possess formal entry qualifications, you may be considered for entry if you have relevant work experience in the media or related industry.