HND Measurement and Control Engineering candidate information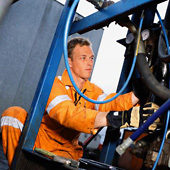 The HND in Measurement and Control Engineering is designed to prepare you for employment or Higher Education.
You will gain experience of Measurement and Control Engineering in one or more of the following areas: maintenance, servicing, installation, testing, operation, commissioning, manufacture and design. You will be able to improve your career opportunities, and progress by developing your performance and personal competence.
You will also be able to develop learning and transferable skills, study and research skills and planning, analysing and synthesising skills.
Employment and progression opportunities
Employment prospects are wide ranging, and include working as a technician in the Oil, Chemical and Gas industry — both off-shore and shore-based. You could also be employed in power generation plants, refineries and process plants, water treatment plants, or the food and drink industries.
You could progress from the HNC to the HND Measurement and Control Engineering, or possibly to a related degree level course.
The HND is recognised by the Institute of Measurement and Control (a Chartered Engineering Professional Body).
Entry
Given the demands of the course, you should be able to demonstrate competence in Mathematics at SCQF level 5, and in one of the following:
Two Highers — one in a science or technology area
Occupationally relevant skills and experience, eg a relevant S/NVQ level 3
NC Measurement and Control Engineering
NC Multidisciplinary Engineering