PDA in Managing Finances at SCQF level 8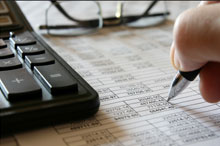 Professional Development Awards (PDAs) are ideal qualifications for candidates who wish to acquire or develop skills and knowledge for the workplace.
The PDA in Managing Finances at SCQF level 8 provides excellent continuing professional development (CPD) opportunities for those currently employed in financial management, particularly in the areas of preparing, developing and managing budgets. For those looking to enter employment, the qualification offers the opportunity to acquire the essential skills and knowledge for a career in managing finances.
The PDA is relevant to those who are employed full-time or part-time, the main point being that the candidate can meet the competences covered in each of the Units by gathering the necessary evidence through their natural workplace activities as a manager.
Use the tabs below to open each section individually. Alternatively you can show allhide all the sections.
Why deliver this qualification
The PDA in Managing Finances has been created to meet the needs of those who wish to develop as managers through their own experience in the workplace and who wish to follow a work-based path to management qualifications but do not want to embark on a full SVQ Management qualification.
The PDA has been designed to enable candidates to develop and achieve competence in financial management, particularly in the areas of preparing, developing and managing budgets.
Who does this qualification suit
The PDA in Managing Finances is for people who are currently employed in first line management, team leader and middle management level posts.
Access
Whilst entry to the PDA in Managing Finances is at the discretion of the centre, to be eligible, candidates must have current occupational experience in a management role and be able to generate the relevant Evidence Requirements.
These target groups will comprise three different, overlapping categories of people who:
have identified a specific need to develop a particular area of their managerial competence
wish to gain recognition for competences which they have developed during their managerial career and wish to confirm that they operate in accordance with the national standards for management
believe that gaining a management qualification to prove their current competence will help them to advance their career as managers
Progression
Candidates can build on this PDA by progressing to other qualifications in the suite of PDAs in Management, particularly ones which concentrate on a specific aspect of management competence such as the PDA in Leadership at SCQF level 8 or the PDA in Managing Projects and Business Processes at SCQF level 9.
Progression between the PDAs in Management is dependent on the managerial position which candidates occupy.
Candidates who complete this PDA will have gained two of the seven Units in the full SVQ3 in Management at SCQF level 7
Approval
Centres with devolved authority for approval should use their own internal approval process.
Centres without devolved authority require to come forward for approval and should contact SQA's Business Development Team for guidance.
Assessors and verifiers must be able to meet SQA's general requirements for technical/occupational competence as outlined in the Systems and Qualification Approval Guide.
How to assess
As the PDA in Managing Finances is based on SVQ Units, the assessment is governed by the Management Assessment Strategy (105 KB).
Candidates will gather evidence of their performance through normal workplace activity, in line with the requirements of the PDA. This evidence will be assessed.
Usual workplace assessment methods will apply, such as use of observation, examining of work products, testimonial evidence from witnesses, Accreditation of Prior Learning, etc.
Where can you take this course?
Arrangements Documents
Unit(s) and delivery tools
Group Award code: G9N2 48 (25 SCQF credit points)
SCQF level: 8
Structure
The PDA in Managing Finance comprises two mandatory Units:
Information sheet(s)