Skills for Work: Hospitality National 5
(SCQF level 5)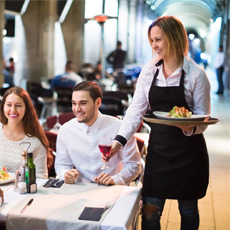 Qualification Information
Skills for Work Hospitality at National 5 (SCQF level 5) provides an introduction to the different commercial and non-commercial sectors of the hospitality industry and the types of provision they offer. Candidates will also learn about the organisational aims of hospitality establishments and the products and services they provide.
Candidates will develop vocational skills and knowledge and gain practical experience in: menu planning; preparing, cooking and presenting a range of foods in a professional kitchen; serving food and drinks; undertaking reception duties and customer care; and planning, organising and running a small hospitality event.
All Units in the Course place emphasis on the employability skills and attitudes which will help to prepare candidates for the workplace. Candidates will have the opportunity to prepare for, and take part in, a job interview.
Use the tabs below to open each section individually. Alternatively you can show allhide all the sections.
Why deliver this qualification
Skills for Work Hospitality at National 5 can be offered full-time, part-time, through open or distance learning, or through evening classes.
This qualification is experiential and learner-centred so candidates can develop practical skills in a realistic work environment where they learn about working in teams and dealing with customers.
This Course focuses on developing generic employability skills needed for success in the workplace through a variety of practical experiences in the health sector. There is considerable flexibility of topics and contexts to facilitate personalisation and choice for learners and centres — and to allow new and stimulating contexts for learning to be built into the Course.
It is anticipated that the Course will build on existing partnerships between schools, colleges of further education, employers and other training providers. Such partnerships will enable the Course to be delivered in a variety of appropriate learning environments with access to relevant teaching expertise.
Who does this qualification suit
This qualification is primarily for school pupils in third year of secondary education and above. It is also suitable for adult returners in a further education environment as a first step into vocationally-related learning.
This qualification is suitable for a wide range of learners including:
pupils from mainstream schools or other education establishments
school leavers
adult returners to education
learners in employment who wish to enhance their career prospects
learners participating in 16+ programmes
Access
Entry is at the discretion of the centre.
Progression
This Course may provide candidates with opportunities to progress to:
NC Hospitality
a Scottish Vocational Qualification (SVQ) in Catering and Hospitality
training or employment
Approval
Centres with devolved authority for approval should use their own internal approval process.
Centres without devolved authority will have to come forward for approval and should contact SQA's Business Development Team for guidance.
Assessors and verifiers must be able to meet SQA's general requirements for technical/occupational competence as outlined in the Guide to Approval .
It is essential that the Course is delivered in a realistic environment. Links with local employers will be valuable. Visiting speakers from industry and visits to hospitality establishments will be of benefit to candidates.
Centres will require hospitality facilities for each of the Units in the Course. Both the kitchen and the restaurant will need to be equipped with sufficient equipment, tools and commodities to replicate that found in the industry.
Personal protective clothing will be essential for all candidates when working in the kitchen. This may include chef's whites and hat. It is also important that the candidates adhere to the house standard for restaurant uniform.
How to assess
Assessment of this Course is based on a range of practical activities. Performance evidence will be supported by assessor observation checklists and candidate reviews. For the Employability Skills, candidates will be required to carry out self-evaluation on a range of skills, review progress and identify action points.
Each Unit is supported by a National Assessment Bank (NAB) item.
Where can you take this course?
Qualification content and delivery tools
Qualification Structure
Group Award code C260 75 (24 SCQF credit points)
The Skills for Work Course in Hospitality at SCQF level 5 consists of mandatory Units.
For further information on the structure and units of this qualification please refer to the Course Specification document.
Course Specification
Qualification Verification Summary Reports
Qualification Verification Summary Reports were formerly known as Internal Assessment Reports
Offer this qualification