National Certificate Music at SCQF level 5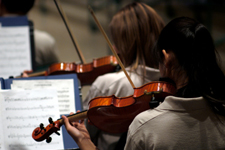 The National Certificate (NC) in Music at SCQF level 5 is designed as a foundation course for learners who wish to go on to further study and to gain skills and knowledge appropriate to the music industry.
Throughout the NC in Music there are opportunities to perform, compose and listen to music from a wide variety of genres and styles, which could include jazz, classical, rock, folk and dance.
National Certificates (NCs) are designed for full-time delivery over one year (or part-time over two years) and are available through schools, colleges and training providers.
Use the tabs below to open each section individually. Alternatively you can show allhide all the sections.
Why deliver this qualification
The NC in Music at SCQF level 5 is funded by the Scottish Funding Council.
This is a flexible Group Award that can be offered on a full-time basis over one year or a part-time basis over two years. It is also suited to partnership working between colleges, schools and community-based centres.
Aspects of the course may be suitable for open or distance learning, perhaps supported by a centre's virtual learning environment providing access to materials and resources and communication with tutors and peers.
Credit can be built up over a period of time and if a learner leaves without completing the course they will be credited for their learning to date.
Who does this qualification suit
The National Certificate in Music is aimed at school leavers, adult returners or those working in the music industry. It is designed as a starting point for those interested in working in the music industry or as continuous professional development for those already employed in some capacity.
Access
Access to the award is at the discretion of the centre, however candidates would benefit from previous experience of a music course or Units at SCQF level 4.
Ideally, candidates should have an interest and some experience of music making and/or composing. Relevant work experience would also be acceptable.
Progression
This NC provides a platform which will allow successful candidates to progress to the NC Music at SCQF level 6 and from there to an HNC, HND or degree programme. They will also be better equipped to seek employment in the music industry.
Approval
Centres with devolved authority for approval should use their own internal approval process.
Centres without devolved authority will have to come forward for approval and should contact SQA's Business Development Team for guidance.
Assessors and verifiers must be able to meet SQA's general requirements for technical/occupational competence as outlined in the Guide to Approval.
How to assess
Centres are encouraged to make use of ICT where possible. Some Units are suitable for e-assessment and individual Unit Specifications give guidelines as to where it might be possible to use e-assessment. Examples include online tests and the use of online resources to allow candidates to compile portfolios.
Where can you take this course?
Qualification content and delivery tools
Qualification structure
This National Certificate in Music consists of 7 mandatory units at SCQF levels 4 and 5 and 5 optional units from a choice of 22 at SCQF levels 4 and 5. Learners must achieve a minimum of 72 SCQF credit points to achieve this qualification.
For further information on the units and structure of the qualification please refer to the Group Award Specification document (505 KB).
Qualification Verification Summary Reports
Qualification Verification Summary Reports were formerly known as Internal Assessment Reports.
Offer this qualification