National 1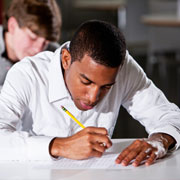 National 1 units are set at SCQF level 1 and build on the broad general education offered in S1 to S3. They enable learners to work towards qualifications that are appropriate to their needs and provide opportunities for peronalised approaches to learning and assessment.
National 1 units are assessed as pass or fail by the teacher, and they are available in a broad range of subjects. Please note that there are no courses at National 1 level.
National 1 documents
View the National 1 documents for each unit.
Support for learners
Learners who do National 1 Units require varying degrees of support. Some may take part at an experiential or sensory level where they require full support, some may require frequent direction and support to enable them to take part, while others may take part independently or with intermittent support.
Centres have the flexibility to manage the support requirements of each individual learner. They may also keep informal records as part of the learning and teaching approaches, to show how the learner is progressing.
Progression opportunities
Learners who achieve National 1 units could have the opportunity to progress to other National 1 units or awards at SCQF level 1. They could also progress to qualifications at SCQF level 2, which include National 2 units, National 2 courses and awards at SCQF level 2.
Awards available at SCQF level 1
Where can you take this course?