HND Marine Electro-Technology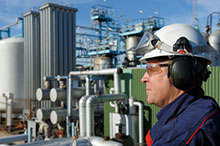 Higher National qualifications provide practical skills and theoretical knowledge that meet the needs of employers. The HND in Marine Electro-Technology (SCQF level 8) provides learners with the knowledge required for a broad range of employment opportunities, but specifically those knowledge elements required by the merchant navy for electro-technical staff.
This qualification is available through further education colleges.
Use the tabs below to open each section individually. Alternatively you can show allhide all the sections.
Why deliver this qualification
In 2010, the International Maritime Organisation (IMO) introduced a new certification category for the position of Electro-Technical Officer (ETO). This will enable officers on merchant navy vessels to gain acknowledgement for their technical skills and hold 'Certificates of Competency (CoC)' at the operational level. These new CoC requirements were introduced from January 2013 in the IMO 'Standards of Training, Certification and Watchkeeping' (STCW) convention as amended in 2010 (Manila 2010).
To comply with this new certification requirement, the maritime authority for the UK Government, the Maritime and Coastguard Agency (MCA) has accepted that new training schemes which meet the training profile for the current Deck and Engineering Operational level CoC will be acceptable for their award of an Electro-Technical Officer CoC.
The Higher National Diploma in Marine Electro-Technology at SCQF level 8 was created to support additional routes to MCA certification within the context of the STCW 2010 Certificates of Competency for Electro-Technical Officers.
The HND can be offered in either of the following modes:
full-time
part-time (eg day-release)
Who does this qualification suit
The target group ranges from school leavers entering the merchant navy to adult returners to education, to those seeking professional recognition and/or improved employment opportunities.
Access
Entry is at the discretion of the centre. Examples of formal entry qualifications may include:
Direct entry to the HND award
At least two Higher level or A2 level passes of which one should be Mathematics or a physical science, or equivalent to meet the minimum 120 UCAS points entry level. Learners should also have Standard Grade English Language at grade 3 or better (equivalent GCSE English at grade C or better). The following examples would also meet the minimum 120 UCAS points entry level:
National Certificate in Electrical/Electronics at Pass/Merit grade
National Diploma in Electrical/Electronics at Pass/Pass/Pass grade
National Diploma in Engineering at Pass/Pass/Merit grade
Where non-UK qualifications are used to measure suitable entry level, then the learner would have High School certificates with pass in 12th Standard (10+2) from recognised articulation board in Physics, Chemistry and Maths group in Class XII, and at least 50% in English Language (equivalent to minimum IELTS 5.0 standard)
Indirect entry to the HND award
At least five Standard Grade passes at grade 3 or better (GCSE at grade C or better) in Mathematics, Physics or Chemistry, and English Language.
After the completion of the Higher Education Access course, such as the SQA Diploma in Shipping and Maritime Operations GA6F 57, then learners can directly enter this HN award.

Whilst the sea service articulated in both routes is an integral element of the certification to MCA Certificate of Competency, it does not form part of the HN award. For MCA certification, a sea service requirement in excess of seven months is required, with a suggested sea service of eight months.
In all cases, the learner will be informed that for progression into a career in the merchant navy a level of physical health and fitness is required. This will be assessed via the MCA Medical Standard as detailed within Merchant Guidance Notice (MGN) 264.
Mature students
There will be a separate certification route for experienced seafarers to gain MCA certification and the full HND award may not be required by such learners. Applicants for the experienced seafarer route will be directed to contact the MCA for a 'Letter of Initial Assessment' where an individual assessment will be undertaken.
Progression and employment
The HND in Marine Electro-Technology has been designed to develop the skills and knowledge required by the maritime sector and industry. In addition, the profile of the new STCW certification route will further increase the attractiveness of suitably skilled ETOs.
This HND will provide all the higher-level technical competences and other attributes needed for employment at a professional level within the maritime sector, and enable individuals to serve successfully as an ETO on a range of vessels within the merchant navy. With further experience, they would also further develop skills and techniques, personal qualities and attributes that are essential for employment and career progression in the shipping industry and in the wider maritime sector where seagoing expertise and skills are in demand.
Some maritime sectors provide promotional advancement within the vessel staffing profiles (cruise industry) or within shore-based technical support roles (technical superintendent).
Approval
Centres with devolved authority are eligible to seek approval through their own internal approval process.
Centres without devolved authority will have to come forward for approval and should contact SQA's Business Development Team for guidance.
Assessors and verifiers must be able to meet SQA's general requirements for technical/occupational competence as outlined in the Guide to Approval.
How to assess
Each individual Unit specification gives detailed information on the Evidence Requirements and approaches to assessment for each unit.
Ongoing course assessment will apply. Further guidance on approaches to assessment is detailed in the Group Award Specification for this course.
Where can you take this course?
Qualification Structure
Group Award code: GF98 16 (240 SCQF credit points)
The HND in Marine Electro-Technology at SCQF level 8 contains 24 mandatory Units.
For further information on the units and structure of this qualification please refer to the Group Award Specification document.
Group Award Specification