Paralegal Practice at SCQF level 7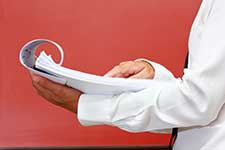 The SVQ in Paralegal Practice at SCQF level 7 is a qualification for those working in legal offices who wish to develop skills in Paralegal Practice at an introductory level.

Most learners are likely to be school leavers who will complete the SVQ as part of a Modern Apprenticeship in Paralegal Practice. Learners could be working in the private sector, in company legal sections, in local authorities, or in a legal outsourcing company.
The SVQ and Modern Apprenticeship in paralegal practice was developed by Skills for Justice.
The SVQ is jointly awarded with the Scottish Paralegal Association.
This qualification is available through employers, college/employer partnerships and training providers.
Important information: As of 1 September 2016, all SVQs with an established SCQF level no longer include the SVQ level in their titles. Please note that our web pages and documents will gradually be updated over time as the SVQs are reviewed, so may still contain the existing titles. More information on SCQF levels can be found on our SCQF web page.
Use the tabs below to open each section individually. Alternatively you can show allhide all the sections.
Why deliver this qualification
The SVQ in Paralegal Practice at SCQF level 7 can be embedded in a company's normal training and development process or can be taken as part of an apprenticeship training programme.
It has been designed to be assessed in the workplace and can be offered at any time without the need to follow the academic session.
This SVQ could appeal to a wide variety of potential candidates, and opens up the possibility of continued study.
Who does this qualification suit
The SVQ in Paralegal Practice at SCQF level 7 is for those working in legal offices in the private sector, in company legal sections, in local authorities, or in legal outsourcing companies, who wish to become a trainee paralegal.
It is suitable for:
learners who may have just left school
mature candidates who may have been out of education for some time
individuals who are currently in employment and who wish to obtain a formal qualification
Learners should be in a post that will enable them to provide the required evidence.
Access
Entry is at the discretion of the centre.
No prior qualifications or knowledge are required to undertake this qualification.
Progression
The SVQ could provide progression to:
an HNC/HND in Legal Services
a PDA at SCQF level 8 in a legal specialism
employment in the legal sector, perhaps as a trainee paralegal
Approval
Centres with devolved authority for approval should use their own internal approval process.
Centres without devolved authority require to come forward for approval and should contact SQA's Business Development Team for guidance.
Assessors and verifiers must be able to meet SQA's general requirements for technical/occupational competence as outlined in the Systems and Qualification Approval Guide
How to assess
For general information on how to assess this qualification, please refer to the document Guidance on how to assess SVQs. For detailed guidance on how to assess this particular SVQ, please refer to the Assessment Strategy.
Where can you take this course?
Qualification content and delivery tools
Information about the qualification(s)
Qualification Structure
National Occupational Standards
Core Skills signposting
Awarding partnership arrangements
Modern Apprenticeship
Information about delivery, assessment, quality assurance and support material
Assessment strategy
Candidate Guidance and Portfolio