PDA Events Operations SCQF level 7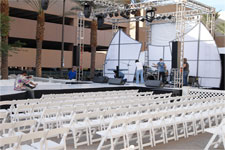 Professional Development Awards (PDAs) extend or broaden professional or vocational skills and are linked to National Occupational Standards.
The PDA in Events Operations at SCQF level 7 is designed to provide continuing professional development for those who already work in events. It will prepare individuals for employment in the industry at a supervisory level and has options to ensure that learners can choose topics that are relevant to their situation — eg in digital communications, marketing, budgeting, live performance, food and beverage, conferencing, and health and safety.
This qualification is available through a range of SQA-approved centres. It is designed to be delivered as a taught course and will normally be available as a combination of workshops and self-directed study, some of which may be online.
Use the tabs below to open each section individually. Alternatively you can show allhide all the sections.
Why deliver this qualification
The PDA in Events Operations at SCQF level 7 has been developed in partnership with employers and industry so it is fit for purpose.
The events industry has seen substantial growth in recent years and industry practitioners now expect prospective employees to have a relevant qualification that provides both the theoretical knowledge and the vocational skills necessary to fulfil a role within the industry.
The PDA in Events Operations will help employers meet skills gaps and provide continuing professional development for staff, while learners will gain knowledge and skills needed for progression in the workplace.
It can also be offered to people who are in training and who wish to gain employment in the sector.
The Unit-based structure aids flexibility in how the qualification is delivered. Units are typically 40 hours of learning and they can be delivered on a full-time or part-time basis.
This PDA provides progression routes to further study (see Progression).
Who does this qualification suit
The target audience is those in work, or seeking employment within the events industry and those who require a specific skill set.
Access
Entry is at the discretion of the centre.
Learners do not need to have formal relevant qualifications to enter either PDA. Good communication skills, both oral and written, are required. It is expected that candidates will be currently working in the events sector.
Examples of appropriate formal entry qualifications include:
a minimum of one SQA Higher (SCQF level 6) pass at grade C along with three Standard Grade passes at 3 or above, or three National 5 awards at grade C or above
appropriate Scottish Group Awards at Intermediate 2 or Replace with appropriate National Certificates at SCQF 5 or 6, for example National Certificate in Event Co-ordination at SCQF level 5
relevant work experience
This qualification would also suit:
employers who wish their employees to take part in short, continuing professional development courses
learners who are seeking national recognition of their achievements
Progression
The Units in the PDA have been mapped against the National Occupational Standards for Events.
The PDA in Events Operations will allow candidates to progress towards an HNC/HND in Events/Events Management and then if interested candidates can progress to a suitable degree programme at university.
Approval
Centres with devolved authority for approval should use their own internal approval process.
Centres without devolved authority will have to come forward for approval and should contact SQA's Business Development Team for guidance.
Assessors and verifiers must be able to meet SQA's general requirements for technical/occupational competence as outlined in the Guide to Approval.
How to assess
The PDA specification places emphasis on assessing the whole Outcome or combination of Outcomes rather than knowledge and/or skills individually.
The Unit specifications allow the use of sampling of knowledge and/or skills. This reduces the assessment loading for both candidates and centres. The Unit specifications detail the Evidence Requirements and assessment procedures for each assessment. Assessment exemplars have been provided for some Units and are available from SQA's secure site.
Additionally, the Event Applications Unit has supporting online delivery materials (available via SQA Academy), which support centres' e-learning strategies. These are available from your centre's SQA Co-ordinator. For further information, please contact My Centre.
Where can you take this course?
Qualification Structure
Group Award code: GJ2W 47 (PDA Events Operations 32 SCQF credit points)
The PDA in Events Operations at SCQF Level 7 consists of two mandatory Units and one optional Unit.
For further information on the units and structure making up this qualification please refer to the Group Award Specification (505 KB).
Qualification Verification Summary Reports