Skills for Work: Energy National 5 (SCQF level 5)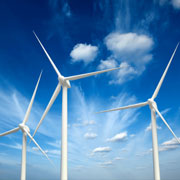 Qualification Information
The National 5 Skills for Work: Energy Course provides a basis for progression into further education or for moving directly into training or employment within the energy sector.
Learners explore the various UK-based energy industries and develop practical skills by building a small-scale solar hot water system and wind turbine. They also develop their employability skills and review their strengths and weaknesses — which are then used to help suggest the most appropriate career for them within the energy sector.
There is an opportunity to specialise in one subject area such as analysing their own carbon footprint, or developing a deeper knowledge of oil and gas production in the North Sea, or learning more about the conventional energy generation systems used in the UK.
At SCQF level 5, learners work alone or with others on straightforward tasks with support.
This qualification is available through schools and colleges.
Use the tabs below to open each section individually. Alternatively you can show allhide all the sections.
Why deliver this qualification
This Course focuses on developing generic employability skills needed for success in the workplace through a variety of practical experiences in the energy area.
The Units have been written in a hierarchical format, to facilitate multi-level delivery. This allows learners to achieve at their highest level, but enables achievement at a lower level if necessary.
There is considerable flexibility of topics and contexts to facilitate personalisation and choice for learners and centres — and to allow new and stimulating contexts for learning to be built into the Course.
It is anticipated that the Course will build on existing partnerships between schools, colleges of further education, employers and other training providers. Such partnerships will enable the Course to be delivered in a variety of appropriate learning environments with access to relevant teaching expertise.
Who does this qualification suit
This qualification is suitable for a wide range of learners including:
pupils from mainstream schools or other education establishments
school leavers
adult returners to education
learners in employment who wish to enhance their career prospects
learners participating in 16+ programmes
college students wishing to develop their skills and knowledge in relation to energy
trainees preparing to enter employment
individuals involved in voluntary activities
Access
Entry is at the discretion of the centre.
Progression
Successful learners may progress to:
A National Progression Award
A National Certificate programme in further education
employment with training in the energy sector
vocational training
Approval
Centres with devolved authority for approval should use their own internal approval process.
Centres without devolved authority will have to come forward for approval and should contact SQA's Business Development Team for guidance.
Assessors and verifiers must be able to meet SQA's general requirements for technical/occupational competence as outlined in the Guide to Approval.
How to assess
There is no external assessment for this Course. Learners must successfully complete each Unit to achieve the Course.
Unit specifications provide detailed information on the Evidence Requirements for each Unit. The Unit Support Notes provide information on approaches to assessment for each Unit.
The Units are internally assessed by centres and externally verified by SQA.
Assessment in this Course will be based on both:
Performance evidence:
Candidates performing a range of practical activities supported by assessor observation checklists
Written and/or oral evidence
Candidate folios
Case study scenarios
Question and Answer
Candidates will also carry out self-review and evaluation of their progress in employability skills. Where possible, assessment should reflect current workplace practice, whether demonstrated through work placement, or simulated environments.
The Units for this Course have been designed so that evidence relating to the employability skills may be used across more than one Unit.
Each Unit is supported by a National Assessment Resource (NAR) item which provides an assessment package and exemplifies the national standard.
Where can you take this course?
Qualification content and delivery tools
Qualification Structure
Group Award code C258 75 (24 SCQF credit points)
The Skills for Work Course in Energy at SCQF level 5 consists of four mandatory Units and three options Units.
For further information on the structure and units of this qualification please refer to the Course Specification document.
Course Specification
Publication of NABs
A NAB for each Course Unit is available from the secure area of SQA's website. Please approach your centre's SQA Co-ordinator for access.
Qualification Verification Summary Reports
Qualification Verification Summary Reports were previously known as Internal Assessment Reports.
Offer this qualification