HNC Petroleum Process Technology, Operations and Control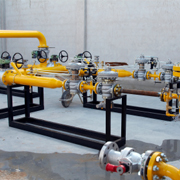 The HNC in Petroleum Process Technology, Operations and Control at SCQF level 7 provides practical skills and theoretical knowledge which prepare candidates for employment in the oil and gas sector as Process Operations Technicians and Measurement and Control Technicians. It is relevant to both upstream petroleum process operations and to appropriate downstream employment areas.
The qualification develops knowledge and skills in areas such as:
the process and production operations involved in hydrocarbon resource exploitation
petroleum production and control technologies and design requirements
the range of products and processes used in the petroleum industry
the key issues within petroleum process technology, operations and control
the physical and chemical principles utilised within petroleum process operations
environmental issues
It also enables candidates to develop a 'health and safety' culture and contributes to the sustainable workforce development of the petroleum process industry through capacity building and assuring capability.
This qualification is available through colleges and training providers. Typically, an HNC takes one year to complete.
Use the tabs below to open each section individually. Alternatively you can show allhide all the sections.
Why deliver this qualification
Higher National qualifications have been developed by SQA in partnership with colleges, universities and industry - so employers recognise that they provide sound evidence of ability.
The wide choice of optional Units allows centres to offer courses tailored to meet individual needs. The HNC Petroleum Process Technology, Operations and Control provides progression routes to higher education.
By offering this qualification, centres are supporting the oil and gas sector by developing a knowledgeable, experienced and competent workforce. Centres will enable candidates to develop a range of employment skills related to the petroleum industries, such as:
study and research skills within the petroleum operations environment
transferable skills, including Core Skills, to levels demanded by employers and for progression to further and/or higher education
effective team working skills
a range of contemporary vocational skills relating to the use, support and development of systems appropriate to employment at technician or professional level
Who does this qualification suit
The HNC Petroleum Process Technology, Operations and Control is suitable for a wide range of candidates including:
school leavers wishing to pursue a career within the petroleum industry
existing employees wishing to gain or extend their qualifications - either by attending by block release or by distance/open learning
employees undertaking work-based vocational qualifications (VQs) who wish, or are required, to obtain relevant and appropriate underpinning knowledge
candidates wishing to move on to higher education in an appropriate discipline area
Access
Whilst access to HNC Petroleum Process Technology, Operations and Control is fully inclusive, centres must use their discretion to ensure that there are no unnecessary barriers to candidate entry.
It is the responsibility of centres to ensure that candidates have the formal qualifications and/or work experience and enthusiasm for the vocational area that would give them a reasonable chance of successfully achieving the award.
The recommended access criteria given below are not exhaustive but are intended to give guidance to centres. As with all SQA qualifications, entry is at the discretion of the centre.
Candidates for HNC Petroleum Process Technology, Operations and Control should have:
one National Course at SCQF level 6 in a relevant subject, preferably Mathematics or Physics or Chemistry, plus four National Qualifications Units at SCQF level 5 or above (eg National 5 or National Courses at Intermediate 2 grade C or above)
a programme of National Units in a suitable subject area (eg Engineering, Science at SCQF level 5 and 6)
qualifications from other awarding bodies, provided the competences can be identified and matched to the above, including S/NVQs in an appropriate occupational area
In addition, an appropriate combination of the above qualifications may be acceptable.
For candidates where English is not their first language, it is recommended that they possess English for Speakers of Other Languages at SCQF level 5.
Different combinations of relevant National Qualifications, vocational qualifications and equivalent qualifications from other awarding bodies may also be acceptable.
Progression and employment
Options within the structure of the qualification allows flexibility for programmes to be devised in a manner to adapt candidate development to meet particular individual or company requirements for candidate specialisation and career progression in a number of production related roles within the oil and gas industry.
The HNC provides candidates with a qualification that is of direct relevance to the modern petroleum processing industry, consequently enhancing opportunities for career access and progression within this key industrial sector. It also provides a significant contribution to the development of a sustainable workforce for the petroleum industry
Approval
Centres with devolved authority for approval should use their own internal approval process.
Centres without devolved authority will have to come forward for approval and should contact SQA's Business Development Team for guidance.
Assessors and verifiers must be able to meet SQA's general requirements for technical/occupational competence as outlined in the Systems and Qualification Approval Guide.
How to assess
Assessment for all units within HNC Petroleum Process Technology, Operations and Control will attempt to address the practical aspects of the units, and assessments will reflect a 'hands-on' approach wherever possible. The overall strategy for assessment is that wherever possible, and where permissible, assessments will be integrated across Outcomes within units, to reduce the overall amount of assessment load placed on candidates.
Assessment is continuous via unit-level assessments, which may take a number of formats such as written and numerical tests, assignment exercises, practical laboratory exercises, hands-on practical simulation assignments or case studies. The overall grading of the course is achievement through one Graded Unit which is a case study. Oil and gas process related topics for the Graded Unit assignment may be assigned on the basis of individual candidate interest or on subject areas nominated by a candidate's sponsoring company.
Each individual unit specification gives detailed information on the Evidence Requirements and approaches to assessment for each unit.
Where can you take this course?
Qualification Structure
HNC Petroleum Process Technology, Operations and Control at SCQF 7
Group Award code: G9K5 15 (96 SCQF credit points)
HNC Petroleum Process Technology, Operations and Control at SCQF level 7 consists of 8 mandatory units and 4 optional units.
Group Award Specification