PDA Dental Care Professionals: Dental Laboratory Skills SCQF level 8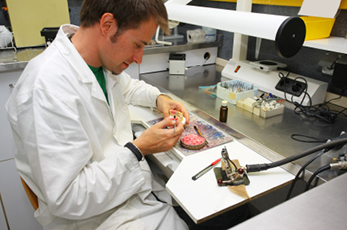 Professional Development Awards (PDAs) extend or broaden professional or vocational skills and are linked to National Occupational Standards.
The PDA in Dental Care Professionals: Dental Laboratory Skills at SCQF level 8 covers types and properties of dental materials, instruments and equipment used in the construction of dental appliances, the construction of study models to the prescription of a dentist, and the construction of mouth guards.
It also includes bleaching trays and vacuum-formed retainers, repairing the acrylic component of removable appliances, the construction of occlusal registration rims and special trays, and self-evaluation and reflection for self-development.
This qualification is available through colleges and training providers. It has been designed to be delivered as a taught course and will normally be available as a combination of workshops and self-directed study.
Use the tabs below to open each section individually. Alternatively you can show allhide all the sections.
Why deliver this qualification
The Professional Development Award in Dental Care Professionals: Dental Laboratory Skills at SCQF level 8 has been developed in partnership with NHS Dental Education for Scotland so is fit for purpose.
It will help employers meet skills gaps and provide continuing professional development for staff, while learners will gain knowledge and skills needed for progression in the workplace.
The Unit-based structure aids timetable flexibility. Units are typically 40 hours of learning and they can be delivered on a full-time or part-time basis.
This PDA provides progression routes to further study (see Progression).
Who does this qualification suit
The target audience is experienced dental nurses who are registered with the regulatory body the General Dental Council (GDC) and who are seeking to extend their clinical duties within their professional scope of practice and to contribute towards their continued professional development.
Where appropriate, other GDC-registered Dental Care Professional (DCP) groups (for example, orthodontic therapists) may also wish to undertake an HN Unit to extend their clinical duties within their professional scope of practice, or for the purposes of continued professional development.
Access
Entry to this qualification is at the discretion of the centre. Learners must be registered with the General Dental Council as a Dental Care Professional. The learner must be working in a dental environment and have the opportunity to gain regular experience in supporting and recording oral health assessment.
Learners undertaking this PDA must also be disclosed under the PVG scheme (2011) standard or enhanced.
Progression
The Units in the PDA have been mapped against the National Occupational Standards for Dental Technology and Dental Nursing.
Learners would have the opportunity of progressing to other PDAs in the oral health care sector or to the HND in Dental Nursing.
Approval
Specific subject expertise is required to deliver this qualification which is detailed in the Group Award Specification (Arrangements Document). To gain approval for this qualification centres should complete and submit a Qualification Approval Application Form. The Business Development Team can provide guidance in completing this form.
Assessors and verifiers must be able to meet SQA's general requirements as outlined in the guide to approval.
How to assess
Each individual Unit specification gives detailed information on the Evidence Requirements and approaches to assessment for the Unit.
Ongoing course assessment will apply. Learners may be required to produce a report based on the practical aspect of their learning, undertake assessments and complete a work-based portfolio.
There are opportunities to integrate assessment within each Unit.
Where can you take this course?
Qualification Structure
Group Award code: GK6M 48 (24 SCQF credit points) (352 KB)
The framework of the Professional Development Award in Dental Care Professionals: Dental Laboratory Skills at SCQF level 8 consists of four HN Units, two of which are mandatory Units. There are two optional Units from which learners will be required to select one. The PDA will be achieved upon successful achievement of three Units.
For further information on the structure and Units of this qualification please refer to the Group Award Specification document.
Group Award Specifications